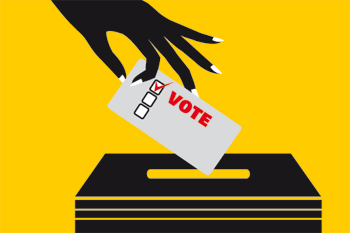 The Welsh Assembly looks set to extend the franchise to 16 and 17 year olds today in what campaigners are calling 'a vital step towards a fairer franchise' for Wales.
The Welsh Assembly Commission will hold a debate and vote this afternoon to agree to begin the legislative process for extending the right to vote for Assembly elections.
It looks likely to pass after the Expert Panel on Assembly Electoral Reform led to cross-party backing for the move.
The Welsh Parliament and Elections Bill would, if passed, see Wales follow Scotland, where 16 and 17 year olds can vote in all Scottish Parliamentary and local elections.
'The support from the Assembly on legislating for votes at 16 and 17 in Wales is a vital step towards a fairer franchise for Wales and the UK as a whole,' said Jess Blair, director of ERS Cymru.
'Young people in Wales can soon have a real say on their future. Alongside wider reforms on how elections will work, Wales is leading the way in empowering a whole new generation of active citizens.'
Darren Hughes, chief executive of the Electoral Reform Society, commented that this shows votes at 16 and 17 in all elections in the UK are a question of 'when' not 'if'.
'Without reform soon, the United Kingdom will be desperately divided when it comes to the voting age and how we empower a new generation,' he said.
'We have seen from Scotland that young people are ready and willing to take charge of their democratic responsibility – and many of the voices who opposed a fairer franchise in 2014 now unequivocally support it, having seen young people's huge enthusiasm.
'The Prime Minister has the opportunity to build a legacy of positive reform: to extend civic duty and create a truly united franchise in the centenary year of women's suffrage.'