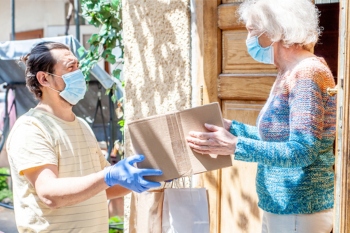 More than a quarter of vulnerable people are still struggling to access basic goods and essential groceries, new research has found.
A survey by Which? found 28% of vulnerable people in the UK could be at risk of going hungry due to problems getting the food they need.
Those most at risk of not being able to access food were people who have learning difficulties or are visually impaired, the research found.
Which? is calling for the situationally vulnerable to have access to free food boxes and priority delivery slots for as long as social distancing measures are in place.
Sue Davies, head of consumer protection and food policy at Which?, said: 'Some people could now be looking at a cliff edge where shielding restrictions are lifted and they are left to fend for themselves, cut off from outside help in getting essential groceries.
'Which? is now calling for the UK's four governments to work with the food industry, local authorities and charities to ensure a longer-term plan for supporting all of those who are at risk and need support is in place by the end of July, so that no vulnerable person faces difficulties in accessing the basic food supplies they need.'
The Local Government Association (LGA) said arrangements need to be put in place to support those who have to self-isolate or resume shielding.
Cllr Ian Hudspeth, chairman of the LGA's Community Wellbeing Board, said: 'Any future support can build on the leadership shown by councils in establishing local arrangements, alongside food charities, retailers and other local partners, to support vulnerable residents outside the shielded group who are struggling to access food and other essentials due to their isolation, or because of economic vulnerability or hardship.'