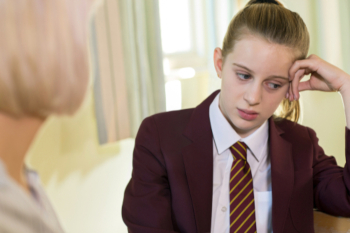 Children who need a social worker are 'significantly' behind other children at school, new research has revealed.
The study, led by the University of Bristol, found that by the age of 16, children that have had a social worker at some stage during their schooling are at least 30% behind educationally compared to their peers.
It shows that Children in Need and Children in Care had already fallen significantly behind other children at school by the age of seven, lagging by between 14-24% at Key Stage 1.
Professor David Berridge, Emeritus Professor of Child and Family Welfare in the School for Policy Studies, said: 'While there are many policies in place to support the education of Children in Care, this is not the case for Children in Need who account for three-quarters of all children needing a social worker and are receiving insufficient help.
'Given the huge numbers involved, this needs to be a high Government priority so these vulnerable children receive greater support and a better start in life.'
The report calls for more comprehensive and coordinated support such as teacher training for pupils' well-being and measures to address the affordability of schooling.
It also wants support available for Children in Care applicable to Children in Need, such as Pupil Premium Plus payments provided to schools and Virtual Schools which oversee their education.
Ruth Maisey, education programme head at the Nuffield Foundation, said: 'We welcome this research which suggests ways the education system might better support children who need a social worker during their school years, and help close the attainment gap.
'These findings are particularly pertinent given that childhood inequalities have come into sharp focus during the coronavirus pandemic.'