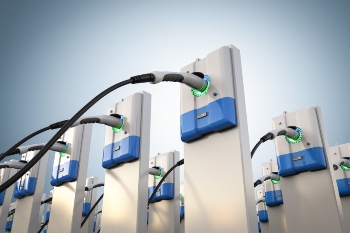 The majority of electric vehicle (EV) drivers use public charge points with 40% using them once a week, a new survey has revealed.
The EV charging company Zap-Map's annual survey has found that 93% of EV drivers use the UK's public charging infrastructure.
Drawing on responses from 3,000 EV drivers across the UK, the poll also found that 40% are using public chargers at least once a week.
The survey also revealed that while rapid chargers (25kW-99kW) are still used by the most EV drivers overall, the usage of ultra-rapid chargers jumped to 27% of EV drivers – up from just 16% in the previous survey.
In part, this increase in usage is being driven by the growing number of ultra-rapid chargers that are now available to use, with the number of ultra-rapid devices available growing by 60% in 2021.
However, Zap-Map says it also provides a clear indication that the new ultra-rapids are fulfilling demand from EV drivers travelling longer distances, with most new EVs now able to charge at the higher speed.
The survey also revealed an increase in the popularity of charging hubs, which are typically groups of between four and ten charging devices.
The survey found that networks installing these charging hubs saw particularly high increases in demand from EV drivers. InstaVolt, for example, leapt up to 42% of EV drivers – from 26% previously. GRIDSERVE Electric Highway too, at 29%, proved popular for its first year, while high-powered networks IONITY and Osprey also saw increases in the proportion of EV drivers using their chargers.
While charging hubs demonstrated the most growth in terms of usage, supermarkets and motorway service areas retained the top two positions, with 52% and 50% of respondents respectively saying they regularly used these types of location.
Melanie Shufflebotham, Zap-Map co-founder & COO, commented: 'As the number of EV drivers on the road approaches half a million, a robust charging infrastructure is essential, and the public charging network is growing and developing to meet these changing needs.
'This new survey shows that the 60% growth in high speed ultra-rapid chargers and the installation of charging hubs across the UK in 2021 are being used by an increasing proportion of EV drivers.
'We know that EV charging use cases are diverse, as the survey makes clear, and we absolutely need a range of charge speeds to match them. However, amongst other considerations, the demand for high-powered chargers revealed in this report indicates that ultra-rapid chargers and charging hubs continue to be a crucial area of investment – for the simple fact that they make long journeys easier.'
This article first appeared on LAPV.