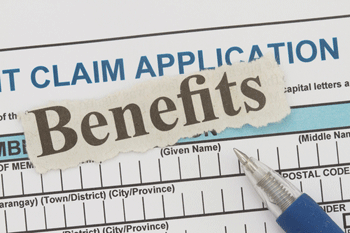 The rollout of Universal Credit (UC) should be paused until significant problems with it are fixed, charity says.
A new report into UC by Citizens Advice, has revealed the requirement to wait for six weeks to receive any payment means people face serious financial insecurity
The charity, which provides advice on the rights and responsibilities of citizens, also warned many recipients of UC were being forced into debt.
Universal Credit merges six existing benefits into one — including tax credits, housing benefit and Employment and Support Allowance (ESA).
Full service Universal Credit has been rolling out gradually across England and Wales for over two years, to around five new areas each month.
But in October this process is set to speed up significantly, to over 50 new areas every month.
By 2022 over seven million households will receive UC and, according to Citizens Advice's analysis, over half (54%) of these will be working households.
Citizens Advice surveyed 800 people who sought help with Universal Credit in areas where there is full service. The results were published in their report, Delivering on Universal Credit.
They found over a third (39%) of people were waiting more than the six weeks it should take to receive their first payment, and just over one in 10 (11%) were waiting over 10 weeks without the benefit.
The charity also learnt three in five (57%) were having to borrow money while waiting for their first payment.
The research also identified a wide range of administrative challenges, including problems with the online system and long waits to get help over the phone, which can make the initial six week wait even longer.
'Universal Credit is already failing too many people, pushing them into debt and leaving them without the means to make ends meet,' said Citizens Advice chief executive, Gillian Guy.
'Citizens Advice supports the principles of Universal Credit, but pushing ahead with roll out while the system remains beset with problems will put thousands more families at financial risk.
'The current flaws with the system also undermine the very reasons Universal Credit was introduced: to simplify the benefits system and make sure every hour of work pays.
'As things stand, too many people are finding Universal Credit very complicated, and problems such as long wait for payments or difficulties getting help with an application mean they are less able to focus on getting into work or increasing their hours.
'The government needs to pause plans to accelerate the roll out of full service Universal Credit this Autumn and devote the time and resource needed to tackle the key problems which mean the system is not working.'
Commenting on the report, Debbie Abrahams MP, shadow work and pensions secretary, said: 'The Government must address the chaos engulfing Universal Credit. It must pause the programme to tackle the serious design flaws in UC at the same time as addressing its chaotic mismanagement.'
'The Government's cuts to Universal Credit means that on top of the design and delivery issues, it fails to make work pay, compounding people's ability to make ends meet,' she continued.
'In spite of this Government's warm words about making Britain fairer, their tax and spending choices have done the opposite.'