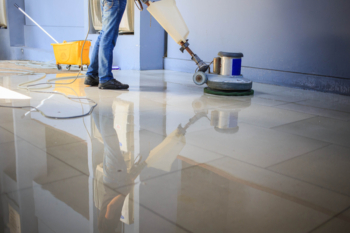 The union GMB have thrown their support behind recommendations for Brent Council to bring their cleaning services back in-house.
Wettons Cleaning Services Limited currently clean housing estates across the borough, after being awarded the contract in 2013 by Brent Housing Partnership.
A review has, however, revealed that the quality of service, including the responsiveness to complaints and the joint working with other contractors, is 'poor'.
Brent council's cabinet will next week be considering recommendations to bring the service in-house.
'Council tenants and leaseholders have been telling us for some time that the current cleaning arrangements aren't working and this is a great opportunity to do something about that,' said Cllr Eleanor Southwood, cabinet member for housing and welfare reform.
'I know how important it is for people to feel happy with where they live, and the cleanliness of our blocks is a huge part of this.
'If Cabinet decides to bring the service back in house, it will give tenants and leaseholders much greater control over the service they pay for as we are committed to developing a resident led system which works well for all of us.'
Krissy O'Hagan, GMB regional officer, said the union supported the recommendations and called on the council to take over cleaning services.
'After 10 years of minimum wage and poor terms and conditions under Wettons Cleaning Services our hard working members deserve better, bringing the service back in-house will correct this pay inequality and improve working conditions,' she said.
'Brent Council are committed to bringing services back in house, and GMB ask that this commitment is honoured and they do the right thing!'