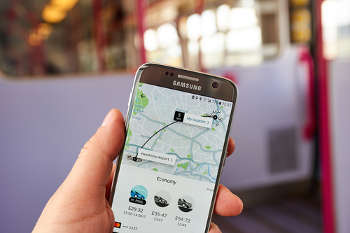 Transport for London (TfL) has ruled against granting Uber a new private hire operator's licence, deeming it to 'not be fit and proper' to hold one.
The company has confirmed that it will appeal the decision. Uber will be closely monitored by TfL but is still able to carry on operating while the appeal process takes place.
A change to Uber's systems allowed unauthorised drivers to upload their photos to other Uber driver accounts, which occurred 'in at least 14,000 trips - putting passenger safety and security at risk', TfL said.
TfL, which acts as the regulator for London, said this was a key issue and that uninsured passenger journeys took place with unlicensed drivers, one of whom had previously had their licence revoked.
Another failure allowed dismissed or suspended drivers to create an Uber account and carry passengers, again compromising passenger safety and security, and other serious breaches occurred, including several insurance-related issues.
TfL recognised the progress Uber had made but raised concerns its systems had been easily manipulated.
London mayor Sadiq Khan said: 'I know this decision may be unpopular with Uber users, but their safety is the paramount concern. Regulations are there to keep Londoners safe, and fully complying with TfL's strict standards is essential if private hire operators want a licence to operate in London.'
Uber now has 21 days to appeal, during which it can continue to operate as well as throughout any appeals process. If it does appeal the case will go to a magistrates' court.
TfL said it will continue to closely scrutinise the private hire operator to ensure robust controls are put in place with regards passenger safety.
Jamie Heywood, Uber's regional general manager for Northern and Eastern Europe, said: 'TfL's decision not to renew Uber's licence in London is extraordinary and wrong, and we will appeal.
'We have fundamentally changed our business over the last two years and are setting the standard on safety. TfL found us to be a fit and proper operator just two months ago, and we continue to go above and beyond.
For more on this story, visit Transport Network.