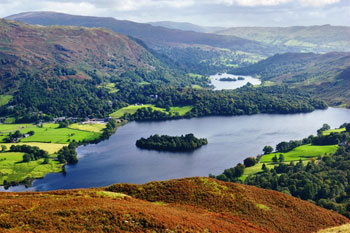 The Government's decision to extend the Yorkshire Dales and the Lake District will create the largest area of almost continuous National Park land in the country.
The Yorkshire Dales will grow by nearly 24% and the Lake District by 3%.
The announcement was made today by environment secretary Elizabeth Truss while she visited Wensleydale Creamery, based in the Yorkshire Dales National Park.
Ms Truss said: 'I am delighted to be able to announce this extension which will join these two unique national parks and protect even more space for generations to come.'
The aim is to boost rural tourism in the area and support rural businesses potentially adding millions more to the £4bn already generated by visitors to National Parks each year.
'National parks are,' Ms Truss said, 'fabulous national assets that welcome over 90 million tourists and contribute to our vibrant rural economy—we are committed to helping them thrive.'
Natural England chairman Andrew Sells welcomed the move. 'The chancellor's Northern Powerhouse depends,' he said, 'upon the 'natural capital' provided by our iconic National Parks. They represent some of England's most treasured natural assets.
'With international appeal, their stunning landscapes stand out as a beacon to the people who come to enjoy them whilst their intrinsic value drives the communities, businesses and biodiversity they support. Extending these today confirms their great importance and provides them with the recognition they richly deserve.'