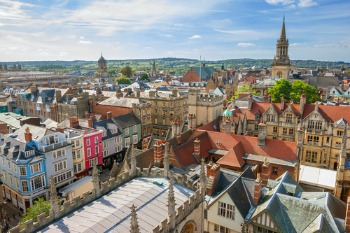 The majority of the UK's cities are now outperforming their pre-financial crisis peak - but some are experiencing pressures on housing affordability, transportation and work-life balance.
The latest 2016 Good Growth for Cities index, produced by PwC and the think-tank, Demos, found two-thirds of the country's cities have improved their rankings on the index, surpassing the pre-financial crisis peak of 2006-08.
The index - which also measured combined authorities, devolved administrations and LEPs - measured more than gross value-added (GVA). It factored in jobs, health, income and skills, work-life balance, house-affordability, travel-to-work times, income equality and pollution, as well as business start-ups.
The highest ranking cities were Oxford, Reading, Edinburgh, Southampton and Bristol. And the lowest ranking were Doncaster, Wakefield & Castleford, Swansea, Sunderland, and Middlesbrough & Stockton.
Virtually all cities have seen an improvement in score since last year's report and the cities that have shown the most substantial improvement since 2012-14 come from across the index.
For example, Doncaster and Wakefield & Castleford are in the bottom five of the overall index, but they are two of the five cities with the biggest improvement in score.
PwC concluded the cities that have seen the biggest improvement in overall score are typically those which have experienced particularly large falls in unemployment or increases in business start-ups.
However, the index revealed that success is bringing a new set of problems to some cities. Some areas that have previously scored highly in terms of jobs, incomes and business start-ups are beginning to share London's experience, including pressures on housing affordability, transportation and work-life balance.
The data used to compile the Good Growth index predated the EU referendum outcome. However, PwC chief economist, John Hawksworth said some inferences could be drawn on the potential impact of Brexit.
'All the elements of our Good Growth index could be impacted by Brexit to some degree, although housing, jobs and income may see the largest effects,' he said.
'Starting up new businesses, for example, could suffer as a result of increased economic uncertainty.
'On the other hand, changing trade relations and regulations after Brexit, the shock to the status quo, and the potential opening up of new markets outside the EU could create opportunities for new entrants.
'Similarly, investment in transport infrastructure could be hit by reductions in Foreign Direct Investment (FDI), but the Chancellor may seek to offset this through greater public investment in transport in the Autumn Statement.
'Collectively, all these factors serve to emphasise the uncertainty surrounding the effect of Brexit. For policymakers across UK cities and regions it is therefore important to understand these risks and the local impact they may have. And, even more than usual, it is important that businesses are agile, and have contingency plans in place for both mitigating the risks and seizing the opportunities that Brexit may create.'