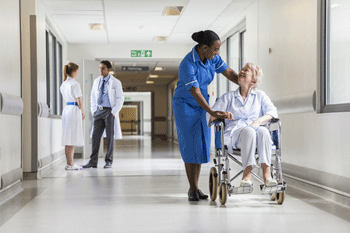 The UK is spending 'significantly' less on health care infrastructure compared to other countries in the EU, new research has revealed today.
The analysis by Health Foundation found the total value of health care capital – which includes buildings, equipment and IT – in the UK has fallen by 35% over seven years.
Of the countries analysed, the UK had the second lowest spend, coming only above Greece. It put just 36% of its total spending towards this area of investment compared to an average of 48% in the other countries.
Anita Charlesworth, director of research and economics at the Health Foundation, said: 'Our analysis shows the UK is trailing a long way behind our European neighbours in terms of the resources that enable doctors and nurses to deliver high quality, modern health care.
'Whether this results in hospital wards with leaks and broken windows, outdated IT or not having enough scanners to detect cancers earlier, this lack of investment ultimately threatens standards of care and patient safety.'
The research warns that recent funding announcements to upgrade hospitals will not be enough to bring the UK in line with the spending of OECD countries.