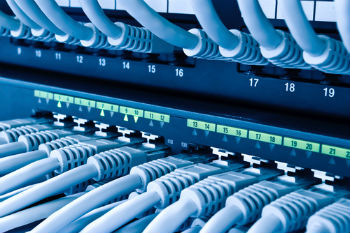 UK broadband is not 'fit for purpose' and Government targets won't go far enough to boost connectivity, a report has found.
The Federation of Small businesses (FSB) estimates 45,000 firms are still using a 'dial up' Internet service while many more are 'struggling' with speeds below 2 Megabits per second (Mbps).
Current Government goals to establish 24Mbps connections for 95% of the population and 2Mbps for the hardest to reach five per cent will fail to meet the future demands of UK businesses, according to The fourth utility.
Ministers were today urged to ensure firms located in local enterprise zones are fully connected to high speed broadband.
Business leaders said all commercial premises in the country should receive minimum speeds of 10Mbps by 2018/19 regardless of their location.
'The fact that we have around 45,000 businesses still on dial up is unacceptable and many more throughout the country, even in London, are receiving poor service,' John Allan, national chairman of the FSB said.
'Evidence from our members shows this clearly is a problem affecting all corners of the UK, rural areas and cities alike.
'While progress has been made with the residential market, businesses have not enjoyed the same benefits, which is holding back their growth,' Allan added.
Responding to the report, a spokesperson from the Department for Culture, Media and Sport, said: 'In rural areas, more than 600,000 businesses and homes across the nation are already reaping the benefits of superfast access, and we're reaching 30,000 more every single week.
'In our cities, more than 1000 small and medium-sized businesses have already made use of our vouchers to boost their connectivity and free public wi-fi is being rolled out in city centres and on public transport across the UK.'
The Scottish Government today pledged to establish a Rural Connectivity Commission to support mobile and broadband coverage for rural business and homes if the country becomes independent in September.