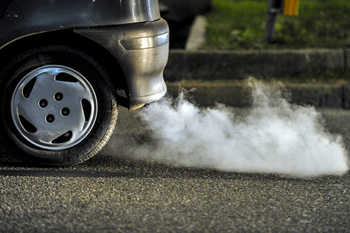 Nearly two-thirds of councils do not have air quality monitors outside their local schools, leading lung health charity says.
A Freedom of Information (FOI) request to councils made by the British Lung Foundation (BLF) revealed 57% of local authorities do not maintain air quality monitors outside their local schools.
The FOI also showed in places identified by the World Health Organisation (WHO) as having harmful levels of dangerous particulate pollution, 47% are only monitoring 1-2 schools and only 30% are monitoring more than 2 schools.
24% of the local authorities that responded did not prioritise schools for placement of air quality monitors.
'Children's lung health is particularly vulnerable to air pollution, yet they are not being protected by the government's air quality monitoring guidance,' said chief executive of British Lung Foundation Dr Penny Woods.
'There is a huge discrepancy in the levels of monitoring outside schools across the country, with many schools in the most harmfully polluted places not being monitored.'
Dr Woods added that children growing up in areas of severe air pollution are up to five times more likely to have poor lung development and are more prone to respiratory infections.
She also urged the Government to bring forward a new Clean Air Act that would 'make it a requirement to monitor air quality outside our schools.'
Responding to the charity's findings, an LGA spokesperson said: 'Councils follow guidelines on monitoring air pollution which are laid down by central Government. These are to take a risk-based approach – monitoring those locations where members of the public might be regularly exposed.
'As well as schools this could also include residential properties, hospitals and care homes – depending on which area is at greatest risk. Many schools are actually some distance from busy roads and therefore unlikely to have high air pollution levels.'
The spokesperson said councils are playing 'a pivotal role' in tackling air pollution, for example by encouraging the use of electric vehicles and bikes.
'The real issue is that councils need more powers to switch their focus from simply monitoring to devising solutions to tackle poor air quality. This needs to be supported by government policy at a national level,' they added.