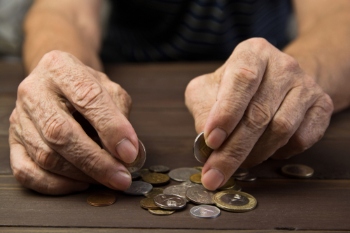 The Chancellor is being urged to bring benefit levels in line with the rate of inflation in the Spring Statement as hundreds of thousands of families struggle to cope with the cost of living crisis.
An online YouGov poll of people claiming Universal Credit revealed that two in five (40%) Brits receiving Universal Credit have been forced into debt this winter just to eat and pay bills.
The poll also found that one in six people surveyed (17%) needed to visit a food bank at least once since the start of December.
One in three (33%) people receiving Universal Credit had more than one day in the last month where they didn't eat at all or had only one meal, while one in three people (33%) surveyed have not been able to heat their home for more than four days across the last month because they couldn't afford to.
The Government is due to increase benefit levels by just 3.1%, an increase that amounts to a £2 a week rise. The food bank charity, the Trussell Trust, described this increase, which follows the £20-a-week cut to Universal Credit introduced in November and a five-year freeze on benefits rates, as 'dangerously insufficient'.
The charity is calling on the Government to increase benefits by at least 7% this April as 'a bare minimum'.
'Right now, the cost of living is forcing hundreds of thousands of families across the country into a downward spiral of debt just to get by,' said Emma Revie, chief executive of the Trussell Trust.
'People are telling us they're going days with minimal food, are having to endure the cold to save money and are being forced to turn to food banks with devastating effects on people's mental health. Social security should be protecting people from debt and food banks – not pushing them towards it.
'This isn't right. We know the situation is only set to get worse and we cannot wait any longer.
'That's why we are calling on the UK Government to bring benefits in line with the forecast rate of inflation as a bare minimum in the upcoming Spring Statement, to prevent thousands more people being forced into debt and through the doors of food banks. Longer term, it is vital we strengthen our social security system so it protects us all from harm and invest in local crisis support so no one needs to use a food bank to get by.'