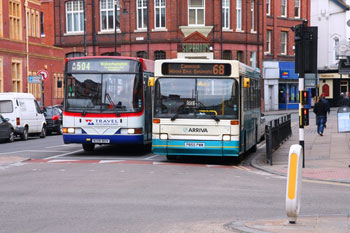 Councils have been urged to place busy buildings away from busy roads when drafting town or city plans in order to reduce the damaging effects of air pollution.
In new draft guidance, the National Institute for Health and Care Excellence (NICE) is also calling on local authorities to educate their transport staff on the importance of turning off their engine when at a standstill and the need to avoid hard accelerations or decelerations.
The guidelines also call for cyclists to be 'screened' from motorised traffic by shrubs or trees.
Professor Paul Lincoln, chief executive of UK health forum and NICE guideline committee chair said: 'Traffic-related air pollution is a major risk to the publics' health and contributes to health inequalities.
'The NICE guidance sets out a strategic range of evidence based practical measures to encourage low or zero emissions transport. This is very timely given the imperative to meet EU and national air quality standards.'
NICE warns that air pollution can be linked to around 25,000 deaths a year in England, and costs the UK up to £18.6bn per annum.