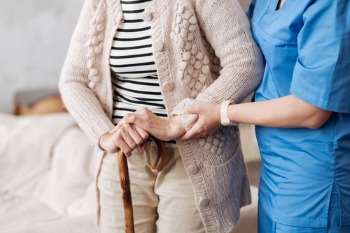 Reform and training carers are two of the key priorities for the social care sector during the year ahead, according to the annual report of the Chief Social Worker (CSW) for Adults Lyn Romeo.
Written in conjunction with the Department of Health and Social Care (DHSC), the annual CSW report highlights a number of key achievements in the last year, including making the wellbeing of staff more central and providing them with more support to prioritise care and meet individual needs.
The report also sets out what the focus will be for the CSW during the year ahead. This includes advising and influencing proposals for social care reform and COVID recovery and promoting and advising on investment in research.
'I am so grateful to everyone working in the social care sector, especially for their work over the past year during the pandemic,' said CSW Lyn Romeo.
'Looking to the year ahead, we'll look to support the social care reform, the vital recovery from the pandemic and strengthen post-qualifying standards to support the workforce.
'As we learn to live with COVID, social work must redesign and reimagine practice alongside people, their carers and the communities they live in to be ambitious in providing the best outcomes for all.'
Minister for care and mental health Gillian Keegan commented: 'The last two years have been a huge challenge with our brilliant social care workforce going above and beyond.
'We've seen the workforce rise to the challenges of the pandemic with compassion and dedication to protect and promote people's opportunities to have the best possible lives.
'Thank you to all social workers in the sector for your hard and dedicated work, we have never needed your expertise and insights more than we do now.'