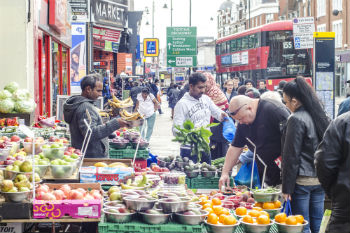 The main representative body for British Muslims has accused the Conservative's mayoral candidate for London of using 'grotesque language' about Muslims and Hindus.
Shaun Bailey wrote a paper 13 years ago for the Centre for Young Policy Studies criticising multiculturalism, claiming it 'robs' Britain of its community and leads to a 'crime riddled cess pool'.
'Among the working class, unless you are one of those "Queen and Country who support the football team" sort of British people, you are lost,' he wrote.
'You don't know what to do. You bring your children to school and they learn far more about Diwali than Christmas.
'I speak to the people who are from Brent and they've been having Muslim and Hindi days off. What it does is rob Britain of its community. Without our community we slip into a crime riddled cess pool.'
The Muslim Council of Britain criticised Mr Bailey describing his language as 'grotesque' and calling on him to distance himself from 'this divisive bigotry'.
The MCB also highlighted the fact that Mr Bailey shared a Tweet last year that described London mayor Sadiq Khan as the 'mad mullah Khan of Londonistan'.
'For a mayoral candidate to have used such grotesque language about Muslims and Hindus, is totally unacceptable,' an MCB spokesperson said.
'Mr Bailey needs to apologise and distance himself from this divisive bigotry.
'However, given Mr Bailey only recently shared a tweet that meant his followers were shown an Islamophobic message, many will want to understand his views on important issues concerning BME communities in London.'
The Conservatives have been criticised for what the Tory peer Sayeeda Warsi has described as a 'simmering underbelly' of Islamophobia.
Baroness Warsi has repeatedly called for an investigation into anti-Muslim prejudice within her party and has called for an apology for Zac Goldsmith's 2016 mayoral campaign which attempted to smear Mr Khan with suggestions he had links to extremists.
Baroness Warsi congratulated Mr Bailey on his nomination, but urged him to distance himself from the 'divisive rhetoric' of the last campaign, a message reiterated by the MCB.
'No one wants to see another ugly divisive mayoral campaign like Zac Goldsmith's, which Mr Bailey has still refused to condemn,' said the spokesperson.
'We have written to Mr Bailey in this regard and hope he will reach out widely to all communities in the coming months.
'We would like to ask whether the Conservative Party — which is yet to launch an inquiry into Islamophobia — was aware of these statements prior to his nomination.'
A spokesperson for Mr Bailey said: 'As a descendant of the Windrush generation, and someone who has worked with diverse communities for over 20 years, Shaun knows full well the challenges faced by BAME communities.
'Shaun has made it his life's work to help those from migrant and disadvantaged communities, and to suggest otherwise is ludicrous.'
Mr Bailey's spokesperson also accused the Labour Party of directing 'racist abuse' at the Tory candidate.
The Labour MP Emma Dent Coad referred to Mr Bailey as a 'token ghetto boy' in a blog post written before she was elected. She subsequently apologised.
Image: Willy Barton / Shutterstock.com.