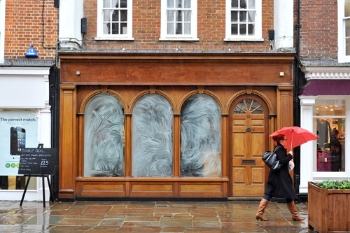 Sian Berry AM, Green London Assembly Member and Camden councillor, calls for an end to the use of the tax evasion technique known as 'box shifting'.
We all know those shops on our high street that always seem to stay empty. You may see signs of life inside for a few weeks now and then, but nothing ever sticks.
Londoners regularly tell me they're fed-up seeing so many local shops, offices and other community spaces in their area sitting empty. These 'dead spaces' add up to hundreds of public and private sites across our city, ranging more widely from vacant industrial units to sports pavilions. While dead spaces themselves are a huge talking point, the reason so many of those dead spaces stay vacant is actually a hidden legal loophole: box shifting.
Box shifting is a sneaky way bad landlords exploit empty property relief instead of dropping their rents and finding new tenants. Landlords put boxes in an empty commercial space and say the space is occupied for six weeks. The boxes are then removed, and the landlord can claim three months of additional business rates relief. When the period is over, landlords can simply put the boxes back in for another six weeks and start all over again. It is estimated that these kinds of avoidance techniques are costing local authorities approximately £250m per year.
After hearing more and more frustration from Londoners about dead spaces in their communities, in 2022 I asked councils how many of their facilities are currently not in use. With that information, I identified close to 800 wide-ranging empty spaces in the public sector alone. My subsequent report, London's dead spaces: bringing them back to life, started a wider debate and made recommendations for a number of ways the Mayor of London and the Government could bring these dead spaces back into use.
The response to the report from across London and further afield has been extraordinary. Twice in the past year I have brought together community groups and organisations working to fill up our high streets with life, hosting online round tables to ensure everyone had a voice in this important conversation.
Among over one hundred attendees were campaigners and activists eager to take over dead spaces, such as ReSpace and Library of Things. Representatives also came from organisations who help bridge the gap between provider and landlord, such as Power to Change, Ashden, The Utilize Project and Climate Emergency Centre.
Together, we discussed the need for more rigorous mapping and evaluating of dead spaces, pathways to provide additional funding, how to make it easier for local authorities to use compulsory purchase powers, and the need for a community right to buy at reasonable cost, as is the law in Scotland.
At the most recent roundtable event I hosted, one of our speakers was Shaylesh Patel from ASTOP, leader of the Ban Box Shifting campaign, who laid out exactly how much the box shifting loophole is costing our communities. Indeed, without the box shifting loophole there would be a huge incentive for landlords to find new tenants. And in cases where commercial uses are difficult, the only real option left for claiming rates relief would be to let the space to charities or bring in community projects.
From repair centres and community shops to art galleries and music studios, our neighbourhoods are teeming with ideas to put spaces to better use. Many people also want to use spaces to build more resilience against climate change, economic shocks, and future pandemics.
Camden, my own council, has supported Think and Do Sharing Space, for example. This is a fantastic project using the Somers Town Tenants and Residents Association hall for residents to come together to get to know each other, play games, share food and skills, swap clothes, get help with energy costs, and so much more.
I know many local councils already back the Ban the Box campaign, because they can see the win-win of receiving more business rates, while also opening up opportunities for community and charity groups to take over dead spaces for public benefit.
There is already real support at the national level. Around 30 MPs, championed by Putney MP Fleur Andersen, have joined the campaign to end box shifting. This week, I publicly responded to the Department for Levelling Up, Housing and Communities with an explicit recommendation to fill this policy hole.
The enthusiasm is there. The plans are there. All we need is for the Government to listen and make this simple change that could do so much good.
I urge every Londoner to assist the Ban the Box campaign by signing the open letter from councillors here. Putting an end to the evasion of business rates will help councils across the country by giving them more money to provide the services residents sorely need.