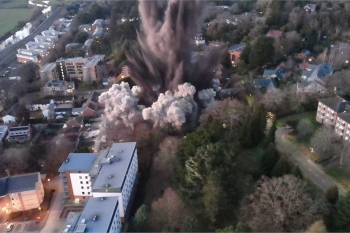 Residents were forced to evacuate their homes this weekend following the detonation of a World War Two bomb in Exeter.
The controlled explosion of a 1,000kg Hermann bomb on Saturday resulted in a crater the size of a double decker bus and damage to some surrounding buildings.
People from more than 2,600 households, including 1,400 students, had been evacuated while teams from Devon County Council, Exeter City Council and Devon and Cornwall Police carried out extensive safety assessment work.
Although most residents were able to go home last night, those who live within the 100-metre exclusion zone are still unable to return.
Cllr John Hart, leader of Devon County Council, said: 'We realise this is a very distressing experience for local residents and the city as a whole. The safety of residents is our absolute priority, and we are moving as quickly as we can to clear debris from the area, assess structural damage to properties and facilities, and make the area safe for the return of residents as quickly as possible.'
The council has provided accommodation for those residents unable to return home or stay with family and friends.
Photo: Devon and Cornwall Constabulary