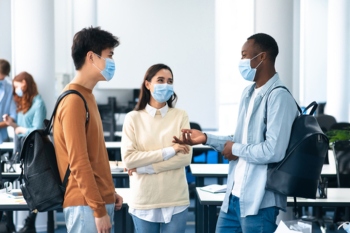 An extra 7,000 air purifiers will be installed across schools to protect face-to-face education and minimise disruption.
The new air filters will located in areas where quick fixes to improve ventilation are not possible, such as being able to open a window.
Ofsted has also confirmed it will not be inspecting secondary schools during the first week of term in January, and will not ask inspectors who are also school, college and early years leaders to undertake inspections.
It will also urge early years settings, schools and colleges that are significantly impacted by COVID-related staff absence to ask for their inspection to be deferred.
Education secretary Nadhim Zahawi said: 'There is no doubt that the Omicron variant presents challenges but the entire education sector has responded with a Herculean effort, and for that I thank each and every one of you.
'The Prime Minister and I have been clear that education is our number one priority. These measures will bolster our support schools as we do everything in our power to minimise disruption.'
The Government has also recommended face coverings are worn in classrooms and teaching spaces for students in year 7 or above until the 26 January.