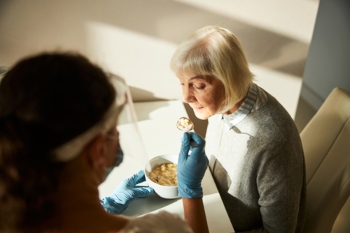 The social care sector in England has lost up to 50,000 workers in the past six months, new analysis has revealed.
The Nuffield Trust found social care providers reported a 42,000 reduction in staff numbers in the six months to the end of October. However, the think tank warned this number could be significantly higher as not all providers submitted data during that period.
The analysis showed home care services were particularly affected, reporting a fall of around 11,000 staff. It said this is fuelling an 'invisible care crisis' in people's own homes.
It argued the drop in staff numbers is heaping pressure on burnout staff, restricting access to care and increasing care burdens on unpaid carers.
Natasha Curry, deputy director of policy at the Nuffield Trust, said: 'Gaps in workforce data supplied by providers of social care services means there is uncertainty over the scale of the staffing shortages across this fragile sector.
'But this analysis does paint a bleak picture of a deepening crisis just as over-stretched care staff prepare for what is expected to be one of the sector's most difficult winters. Unless further and immediate action is taken, it's likely we will see even more care staff leave the sector this winter at the worst possible time.'
The Nuffield Trust said if government estimates that another 35,000 home care staff will leave their posts due to mandatory vaccination are accurate, as many as 110,000 people could lose out on home care as a result.