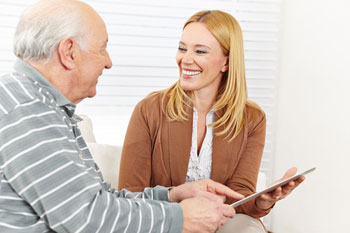 The ever-increasing pressures and demands on social care were succinctly summarised in a recent article in Health MJ.
• Social care spending is up in real terms.
• Reduced spending on social care has led to more deaths.
• Care home charges are rising at a record rate.
So it's no surprise that the survey found many local councils are spending over 50% of their budget on meeting the social care needs in their region.
Digital technology can make a huge impact on social care – from reducing delivery costs to improving the quality of the care experience for citizens and care workers. In the words of Dr Ben Maruthappu of UCL: 'More must be done to better modernise care services. The potential benefits of greater use of digital technology in the social care sector are enormous.'
Enabling care professionals to work from any base at any time
With the emphasis on place-based working and multidisciplinary teams, care professionals need to be able to work seamlessly across boundaries. An integrated, secure, wired & mobile network is the digital foundation for better orchestrated care across local health and social care providers, allowing workers to access and share information, irrespective of where they are or who they work for.
With the right mobile and remote working solutions in place, care professionals can spend more time with people in need. Being able to access and share data easily outside of the office speeds up data capture, decision-making processes, and reduces errors. Video conferencing and unified communication tools such as instant messaging, can be used to enable secure online communications between the many organisations involved in safeguarding vulnerable children and young people. The right technology can help staff be more productive, spending more time on the frontline and less time on administration – and creating better citizen outcomes.
Helping people to stay in their homes for longer
The Internet of Things (IoT) makes it much easier to support people living at home, and provide safe, remotely monitored care for vulnerable people. Physical sensors in people's homes, combined with intelligent and consumer centric use of passive devices such as personal smartphones and apps, can help people stay at home longer. Connected IoT devices can give care commissioners better insight into the needs of individuals and populations, allowing them to target scarce resources where they will have the greatest impact. In the future, IoT and 5G mobile should allow individuals and their families to take more control over their care plans, easing the demand for reactive care services.
New digital channels to access care services
Enabling people to interact with care services through digital channels was highlighted as one of the top priorities by half of the survey respondents. Allowing citizens and their carers to interact through channels that work for them encourages them to take more ownership and responsibility. Easier access to advice and guidance for their needs, better access to care plans, and different ways of sharing these between everyone concerned can lower the cost of service provision and provide better control and assurance.
How is BT supporting this smarter digital future?
Connectivity is at the heart of the technologies needed to achieve better care outcomes – and connectivity is BT's core business, bringing together fixed, mobile & wi-fi technologies to seamlessly connect people, places and machines. Our unified workplace, mobility, and collaboration solutions unlock the potential, and create the reality, for care staff to work from anywhere and deliver an online personal care experience for their clients.
Our customer contact solutions help create personalised care experiences, using innovative artificial intelligent machine learning technologies to streamline the contact experience quality. We are working on developing an IoT platform to support the eco-system of services needed to realise the transformative potential of IoT for care services.
But success needs more than the right technology
The design and delivery of effective digital technology for improved social care needs the input and engagement of care professionals. Engaging social care workers in any digital change, and ensuring they have the right digital skills, are critical for success. Citizens too need to be equipped to embrace new technologies.
Connectivity and collaboration technology requires organisational connectivity and collaboration. Integrated health and social care is a team-based activity, requiring team-based digital tools for success. A team-based approach is crucial to identifying solutions and future innovation to meet the growing challenge of delivering cost-effective, high quality care. Local partners should continue to co-design based on citizen needs in their region, but also look to partner with digital technology providers - exploring and experimenting with those on the frontline to develop the right solutions for now and the future.