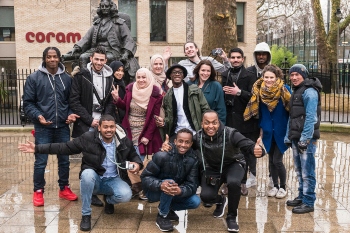 For many young people from migrant and refugee backgrounds arriving in the UK, separation from their families and countries of origin is extremely difficult. Traumatic events that they may have witnessed or experienced and the practical challenges of adapting to life in a new country can all have a significant impact on their mental health. But accessing mental health support through their local authorities can have a transformative effect.
Nouh, who arrived in the UK aged 16 said: 'My mental health was at the lowest level when I first came to the UK. I was always feeling sad and worried about the people that I'd left behind. I was very anxious and not certain about my future and how I'd fit into this new society.'
Young migrants and refugees often have a limited understanding of mental health when they first arrive. Sometimes there is a lack of education around mental health issues in their countries of origin and it can be hard to find the vocabulary in their languages to describe it.
Talal, who was 16 when he arrived in the UK, was initially sceptical of therapy: 'She talked about all the things that upset me, slowly. I didn't want to share anything at first, but I gradually tasted the benefits. Before I spoke to anyone, I felt paralysed, like my body was numb. Now I've said it, I feel normal.'
Religion can sometimes be a barrier to accessing therapy, as some young people feel that they should rely on God for help. Talal said: 'If you are a religious person, you believe that God is near you, he can hear, he can see and he helps you. So, when you seek help from a human you feel like you aren't placing your trust in God". But now, after therapy, he sees things differently: "There is a saying 'God will help with those who plant their seeds' – if you have a problem you have to plant the seeds to help yourself.'
Pauline Robbins, service manager and visiting advocacy development lead at Coram Voice underlines the importance of local authority support: 'Unaccompanied and separated migrant children (under 18 years old), who have no adults to look after them in this country, have a right to be "accommodated" by a local authority under Section 20 of the Children Act 1989. A child who is "accommodated" by the children's services department of a local authority under section 20 falls within the definition of a 'looked after' child and is also entitled to support as a care leaver post 18-years-old.
'Young people's mental health and wellbeing should be central in the provision of support for care leavers. Before a young person turns 18, their social worker should undertake a holistic assessment with them. This forms the basis of their first pathway plan to look at and identify the support needed as they leave care. This considers many aspects of a young person's life, including their emotional wellbeing and mental health. Although there are variations in support available, the local authority must plan for the needs of the young person rather than service availability. In addition, all local authorities must publish their "Local Offer" for care leavers which details their rights and entitlements. Care leavers should be supported by their personal adviser until they turn 25 years old to access the support they need as they move to adulthood.'
It is also important for foster carers to be well informed. Safia Basith, a foster carer who has cared for 13 unaccompanied minors, working with her local authority Croydon, understands this reality only too well: 'Over the years, I have heard many painful stories which have helped me to gain an understanding of the trauma that these children and young people carry with them. The importance of mental health support cannot be underestimated.'
Safia, who received specialist training from her local authority on the trauma experienced by unaccompanied minors, as well as legal and immigration matters, added: 'Being given the opportunity to come to terms with their experiences is vital for these children and young people to become healthy and productive members of society in the future.'
For Nouh and Talal, accessing the right support through their local authorities has enabled them to work through their difficulties. They are also members of Coram's award-winning Young Citizens programme, a group of young people who design and run workshops for other young migrants, equipping them with knowledge of their rights and the confidence to access them as well as encouraging resilience to overcome challenges.
As we mark Mental Health Awareness Week starting on the 10th of May, the Young Citizens have channelled their experiences into a message of hope for other young people from migrant and refugee backgrounds and created a powerful animation to encourage young people to speak out about mental health difficulties and to show them that it is possible to make a positive life in the UK. As Nouh says at the end of the animation: 'I decided to declare change and start talking about what I feel. Whatever you come through, hard, bad, negative will all pass, it's just a matter of time and belief.'
Amy Spiller is Coram's Youth Citizens programme manager
If you're interested in Young Citizens delivering a workshop at your local authority, college or youth group please get in touch with the programme manager at amy.spiller@coram.org.uk. Find out more at coram.org.uk/youngcitizens.