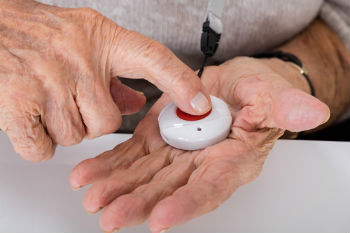 We should put as much value in care for our loved ones as we do for our private property. Unfortunately, when it comes to the standards and capability of the services that provide this care, this is not the case.
For property, digital technology such as remote CCTV monitoring, and multiple communication links and regular stress testing help ensure protection is in place. Vehicle and personnel tracking monitors tell us when and where people are as they attend to their duties. All are linked to a central contact centre to mobilise the required response.
Such technology is commonplace for private property. However, the application of such technology is just emerging to help individuals who are receiving care in their home.
Both property and people rely on alarm receiving centres (ARCs) to ensure that unusual activity is monitored and, where relevant, acted upon. ARCs provide a response when an alarm is sounded at a location, or by an individual.
Both should expect the same level of assurance. However, ARCs are governed by different standards for private property and public care.
Private ARCs abide by British Standards such as BS 50518 and BS 5979. These provide the regulated benchmark against which such services are measured, and include how ARCs are built, how they handle data, and how they can work with response services.
Whilst these private sector standards are in development, and what currently applies can prove confusing, they do enable ARCs to provide a platform for ever-increasing use of digital technology to share information.
The standards in place for 'social alarms' used for the wider public, such as BS 5821 and BS 50134, are still rooted in the public telephony network that most social alarm suppliers rely upon to transmit life-and-death information about our loved ones.
Systems protecting private property can use the latest in telecommunications to automatically trigger necessary action based on certain circumstances. Those in place for the public largely have to rely on such increasingly outdated phone networks to call for help.
The Telecare Services Association (TSA) has developed a Code of Practice, which aims to provide a level of accreditation for service providers of telecare and telehealth systems to the public.
This quality framework is a useful tool. However, it is voluntary, and compliance is not compulsory. We need more rigorous standards if we are to provide the support our loved ones need.
We also need to leverage the same technology in use for private property with those receiving telecare and telehealth services.
For example, ensuring that devices such as home sensors and smoke alarms are working currently requires a home visit, rather than the automated checking that digital technology can provide.
Fire alarms on buildings use technology to ensure constant operation, but not, it seems smoke alarms for the elderly.
If we are to harness technology as part of everyday care, and do so within limited financial constraints, we need to make the most of what we have available to us.
With social care in crisis, it is time to be bold. With so much innovation and capability available to us, we should be using it to support more efficient delivery of care in the home – not just for the home.
Tom Morton is from Communicare247
This feature first appeared in Local Government News magazine. Sign up for your copy here.