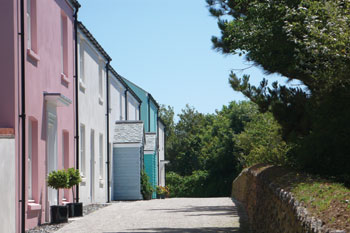 The premise of garden villages is really two-fold: to target land that is far enough away from existing settlements to satisfy NIMBYs (not-in-my-backyard), and to pick sites that haven't yet been optioned or purchased to the highest value and therefore to use the uplift in value to pay for community infrastructure and affordable housing.
In the current housing market, councillors find themselves in a rather awkward position of having to try and allow the delivery of housing to address the affordability issue but also to satisfy local communities that new development is in their best interests.
The solution on paper is relatively simple - to build beautiful homes and places that enhance their local setting, to create community facilities and job opportunities locally and to open up fields for parks, allotments, cycleways and sports fields to benefit neighbouring communities.
The reality can be somewhat different as most land is bought competitively so that the person that can offer the most money up front gets the purchase and that usually leads to the cheapest and often the worst developments. In some cases that can create the opportunity for the less scrupulous developer to artificially drive up build costs and drive down affordable homes provision to increase their profit margins.
Unfortunately, given the large land banks of the UK's largest home builders there is perhaps not much incentive to speed up delivery as that would drive down house prices meaning developers would need to build more to get similar profits.
If done properly garden villages could offer part of the solution but only if local councillors and the local planning departments prioritise genuine mixed used communities that capture the land uplift over the standard model of development.
With garden villages the housing is designed with the help of the local community, through engagement methods such as an Enquiry By Design where the community can help select the house types and styles they like and also the mix of housing the local community needs so that the proposals become popular locally.
The Prince's Foundation for Building Community has successfully applied this model at Nansledan, an extension of Newquay on Duchy of Cornwall land, connecting Newquay with an area of mixed-income housing, shops, offices and leisure facilities within a walkable neighbourhood. Public consultation on local need, design and masterplanning have been a principle of the development together with efficient use of local land, the use of local materials and the sustainability and viability of the development.
Sadly at the moment there seems little or no advantages to developing sensitive sites under the garden village model as councillors are often under pressure to prioritise the speed and certainty of delivery offered by larger developers than quality and integrated community uses which lag behind in terms of priorities.
The result is rows and rows of identical boxes being thrown up across the country with very little sense of enhancing the local village or town and very rarely delivering what was promised at the point of gaining a planning consent.
In Building a Legacy: A Landowner's Guide to Popular Development, The Prince's Foundation for Building Community sets out the benefits of creating beautiful mixed use settlements using an alternative development model. As well as the prospectus, there is a growing network of landowners, developers and professionals who have been delivering new communities using this model and achieving great success. Although principally targeted at private landowners, the prospectus could equally well apply to public sector land, which should above all be valued for social as well as economic benefits and with a long term view in mind.
If there is to be a step change in the quality and popularity of new housing in the UK then councillors need to start asking deeper questions of landowners and giving more weight to those sites capable of delivering a better quality development over the long term than the standard development model which has not really proven itself capable of building the conservation areas of tomorrow.
Ben Bolgar is senior director at The Prince's Foundation for Building Community
This feature first appeared in Local Government News magazine - https://www.localgov.co.uk/lgnregform