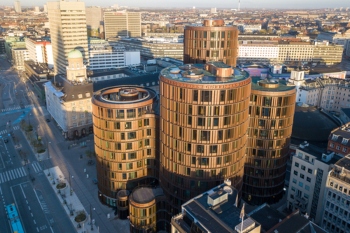 More than 300 local authorities have now declared a climate emergency, and many have now set goals to make their towns and cities net zero.
While the UK itself was among the first advanced economies in the G7 to set a target date for becoming net zero – by 2050 – many of its civic leaders are aiming to get there within the next this decade, or shortly after. This includes Birmingham, Bristol and Cardiff by 2030, and Manchester and Leeds by 2038.
This boldness is welcome, but the scale of the task is daunting. It's not an exaggeration to say that significant action is needed now to ensure these targets have any hope of being achieved.
A key battleground in the war against emissions is in the built environment. Buildings account for 40% of total carbon emissions on average. But this figure is much greater within our major regional urban centres.
In Manchester it's 69%, Birmingham 68% and Glasgow 66%. Only Bristol, at 45%, is closer to the benchmark though its metrics are arguably more restrictive than in other cities.
The office buildings in our cities have an especially important role to play but our analysis suggests a huge task lays ahead of councils, investors, and developers.
We looked at the energy performance of the commercial property space in eight of the UK's biggest regional markets (Thames Valley, Bristol, Cardiff, Birmingham, Manchester, Leeds, Glasgow and Edinburgh), including the Energy Performance Certificate rating of their buildings, for our Sustainability and Value in the Regions report.
EPC ratings are like those used in the retail of white goods and the government is consulting on a new minimum rating of 'B' for all commercial office buildings by 2030 – otherwise they cannot be leased.
At this point in time, 90% of office stock across these centres falls short – except for Glasgow and Edinburgh, which were excluded from our EPC analysis. Although just 5% of offices in the Scottish capital and 11% in Glasgow are in buildings deemed to be of a currently acceptable environmental standard, as measured by BREEAM rating (Good or above). This equates to millions of square feet of space across our cities.
Much of it is being refurbished and repositioned now and if we can hit a repurposing rate of 5% each year then we'll have made it. But this will require double the levels of redevelopment seen over the last decade.
Given that most of this property rests in private hands, what can local authorities reasonably be expected to do about it?
There are some best practice lessons from other cities that we can draw inspiration from.
Establishing formal partnerships with leading investors within each town or city, that are focused on identifying and tackling carbon intensive, older stock is one step taken by many in the UK already.
These partnerships would develop action plans for specific assets and work together to monitor performance and identify opportunities to reduce energy intensity.
Copenhagen's 'Energy Leap' initiative provides a working model. Its three-step approach focuses on helping investors track energy consumption, optimise building systems and retrofit stock, and is based on a voluntary agreement between the city and its largest building owners.
Aligned to this, councils can also act as a locus for knowledge sharing and best practice across local investor communities.
This can be especially useful when properties might be owned by smaller commercial landlords without the scale and infrastructure of larger REITs or multi-city players that may have dedicated sustainability teams and capital expenditure programmes.
And it can even go as far as the development of accelerator programmes. In New York, the city's Retrofit Accelerator helps identify opportunities at individual buildings and then connect investors to financial and technical resources.
Our regional cities are at the forefront of the decarbonising of the UK, with many working harder and faster to reach net zero than not only the wider country but their larger peers here and internationally; London, Paris, LA, Amsterdam, and Berlin are among many targeting 2050 neutrality.
Ultimately, property investors will have to stick their hands in their pockets to upgrade stock. Occupier demand and regulatory pressure will act as a stick, but the scale of the task our research identifies suggests that the cooperation of local councils will be needed too – and they can provide the carrot.
Jeff Pearey is head of regional office agency at JLL
Copenhagen photo: Oliver Foerstner / Shutterstock.com