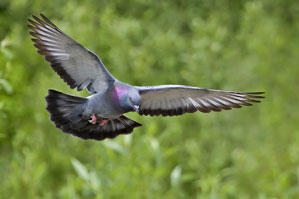 Introducing effective bird management procedures can present challenges for local authorities, but the public health issues mean it is a matter that cannot be ignored.
Of particular concern for local authorities is the feral pigeon, which is very common and found in all areas of the UK.
Feral pigeons can have a real impact on the look and feel of towns and cities. This can include the visual effects created by their fouling. The noise they generate is another disruption.
However, the most pressing issue is one of safety. Feral pigeons can harbour a large variety of diseases and insects on the body and in their nests, and fouling presents public health concerns.
There is also the health and safety implications of slips and trips caused by their droppings to consider.
Pigeon problems
Pigeons carry a variety of diseases such as Ornithosis, Listeria and E-coli. These can be transmitted to humans from the droppings, and also from the birds themselves.
When dry, pigeon droppings can also become airborne in small particles, which can lead to respiratory complaints such as Ornithosis (also known as Psittacosis).
Pigeon droppings are acidic and can corrode and erode metals, stonework and brickwork. Nesting materials birds use can also block chimneys, flues and guttering, causing possible issues with carbon monoxide and damage to buildings as water overflows from blocked gutters.
Furthermore, pigeons and their nests can support parasites such as mites, ticks, fleas and beetles.
Contractor expertise
BPCA membership includes pest management professionals with expertise in bird control to help address the problem. They are familiar with environmental, social and legal issues, one of which is the Wildlife and Countryside Act 1981.
Prevention is of course much more effective in protecting against pest issues, and in the case of nuisance birds such as pigeons and gulls, proven techniques centred around proofing and dispersal help to mitigate and avoid issues for local communities.
Sometimes bird management work can also involve working at height, so companies offering this service must be compliant with the relevant health and safety requirements.
This is coupled with insight into bird behaviour, together with an understanding of the actions that need to be taken to advise on contributory factors, such as waste management and building maintenance.
BPCA member John Dickson, of NBC Environment, specialises in bird management.
He said: "The legislative nuances relating to birds are highly complex, and it is advisable to commission a survey from an experienced bird expert.
"They can put a mitigation plan in place to ensure operations are approved and legal, which will provide auditable evidence safeguarding your site."
Bird Management Solutions
Methods to manage nuisance birds range from traditional techniques through to processes featuring the latest technology.
These can include the use of non-lethal falconry to act as a deterrent/dispersal method, as well as laser systems to modify behaviours and encourage birds not to settle at particular sites.
Proofing options include, but are not limited to, bird netting, bird spikes, electric bird wire and non-toxic bird gel.
Another point to consider is the level of 'bird pressure' a particular area is subjected to. The pest management industry has three levels of pressure, low, medium and high.
Low pressure includes daytime perching and sun-baking, while medium relates to night roosting and access to natural food sources.
High pressure relates to nesting and access to artificial food sources.
Approaches are usually categorised by the level of pressure encountered in a particular environment.
BPCA offers further advice on feral pigeons in its A-Z of Pests at https://bpca.org.uk/a-z-of-pest-advice/pigeon-control-get-rid-of-and-prevent-pigeons-bpca-a-z-of-pests-/188995
The link also includes details of how to find a BPCA member company.