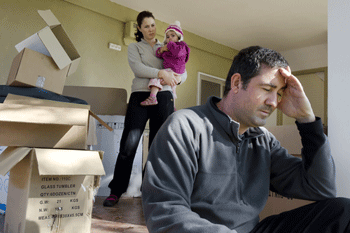 The number of tenants evicted from their homes has climbed to a six-year high, as rising rents and welfare cuts leave families 'living in fear'.
County court bailiffs evicted 11,307 renting households in England and Wales in the first three months of this year, an 8% rise on the same period in 2014.
Figures from the Ministry of Justice reveal the number of evictions between January and March 2015 was the highest recorded in a single quarter since 2009.
The figures came as data from the Department for Work and Pensions revealed around 58,700 households have had their housing benefit capped since the limit was introduced in April 2013. Some 35,600 of those households are no longer subject to the cap, while almost 22,400 have moved into work, reduced their benefit claims or no longer claim support.
Returning work and pensions secretary, Iain Duncan Smith, said thousands of people hit by the benefits cap were 'gaining the financial security and esteem that comes with a job and a pay packet'.
Yet housing charity Shelter today warned soaring rents and benefit reductions were leaving families facing a constant struggle to remain in their homes.
Its chief executive, Campbell Robb, said: 'Today's figures are a glaring reminder that sky high housing costs and welfare cuts are leaving thousands of people battling to keep a roof over their heads.
'Every day at Shelter we see the devastating impact of a housing market at boiling point, with the cost of renting so high that many families are living in fear that just one thing like losing their job or becoming ill could leave them with the bailiffs knocking at the door.'