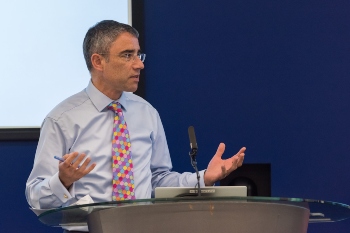 A nationwide lockdown in response to the Covid-19 pandemic was essential to slow the spread of the virus and save lives. But as official statistics for the UK economy in April just released show, the economy as a whole has taken a real hammering. Government statisticians estimate output shrank by a whopping 20.4% - the largest fall in living memory and beyond.
The hospitality industry - notably hotels, pubs and restaurants - has been among the hardest hit. For the three months to April, accommodation and food service output cratered by more than 40%. Unemployment within this sector is set to balloon. Transport is also under intense strain, with air, railway and bus services experiencing a collapse in customer demand. And many other sectors including construction and manufacturing continue to struggle.
As restrictions are eased and recovery begins, councils have a crucial role to play. It is vital that they use their experience and local know-how to enable businesses to once again thrive and provide employment opportunities and wealth creation for their local communities.
While this is a demanding challenge, there are lessons to be learned from recent history, not only from the UK but also internationally. London's response to the 2011 riots, Christchurch - picking up the pieces of the earthquake a decade ago - and New York tackling the aftermath of Hurricane Sandy in 2012 are examples we can perhaps draw on.
The cornerstones of successful responses have been tailored solutions that delivered economic support, social benefits and resilience. The ten ideas set out below perhaps provide something of a framework of thinking as we look to rebuild our local economies during these unprecedented times.
1. Use this time of disruption to experiment: Disruption of day-to-day services has made normal public service activities challenging to deliver. From digital consultation to reallocating space on our streets and roads, we can take advantage of the opportunity to trial new ways of doing things that might have taken many months to roll out previously.
2. Gather innovative ideas for solving pandemic-related problems for future use in the post-pandemic era: Rapid and significant changes in the economy combined with the way local public services are provided often require collaborative solutions. Harnessing the power of businesses, business improvement districts and the wider community can be a great way to create lasting partnership working that will be invaluable both now and when things get back to normal.
3. Support people by helping them to access skills for jobs in the new economy: The increase in unemployed and furloughed workers has negative impacts on a community's wellbeing and the economy. Providing skills, training and entrepreneurial support today can help to ensure a more rapid return to work for those who have lost their employment.
4. Be prepared to respond swiftly to offers of central government funding for projects that can get going quickly and deliver in the short term: Central government is on the lookout for schemes that can be accelerated or launched quickly to help with recovery. Being able to respond rapidly to these opportunities could make all the difference.
5. Establish a 'business recovery task force' that enhances your existing support offer in the long-term: There will be a widespread desire to get the economy back on track and to trigger investment as quickly as possible. Focusing on making sure the basics are right – such as creating safe, welcoming streets and public places - plus providing additional support to key sectors - is likely to be a winning strategy.
6. Get people back into towns: Use the change in travel patterns and reduction in traffic to embed sustainable transport practices. This can be done by coaxing people back on to sustainable and active transport, promoting free or low-cost bike-share systems, creating temporary pedestrian zones and providing electric charging points.
7. Re-imagine the high street and set up 'meanwhile' uses: The economic shock will accelerate the challenges faced by high streets and retail businesses. Creating a ground-floor use strategy that is flexible and possible to implement rapidly can aid town centre recovery and bring back vitality to the high street.
8. Re-think economic growth: What kind of growth do we want for our local communities? How can we maximise resilience and inclusion? Developing strategies with a focus on inclusive, resilient and sustainable economic growth will pay dividends over the medium and long term.
9. Bridge the digital divide: There is often disparity in the quality of digital connectivity across communities. Developing a strategy for digital investment would help build long term resilience to future economic shocks and also assist with improving economic competitiveness.
10. Revisit priorities: How pandemic-proof are our strategies? Learning from this crisis, could we build up institutions to mitigate the impact of future waves or other forms of disruption? Reviewing and ensuring that the right priorities and strategies in place will pay dividends in the long term.
Local government is essential to ensuring the success of the economy. The pandemic has yet again shown how Britain's over-centralised form of government struggles when confronted with systemic challenges that require a high level of locally tailored and delivered activity. In the wake of Covid-19, town halls can lead the way by working in partnership with businesses to deliver long term, sustainable prosperity for their communities.
For more details, download Arup's 'ten ideas' paper
Alexander Jan is chief economist at Arup