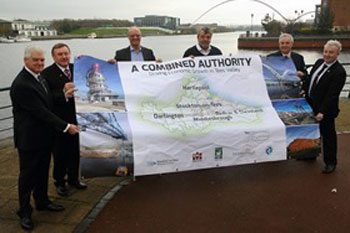 Proposals have been launched to create a combined authority in Tees Valley designed to boost investment in the area and give it a 'stronger voice'.
The area's five councils – Darlington, Stockton, Middlesbrough, Redcar and Cleveland and Hartlepool – will begin consultation on the plans next month.
It would see the local authorities work together on economic development, transport, infrastructure and skills alongside the local enterprise partnership (LEP), Tees Valley Unlimited.
'We all want to realise Tees Valley's huge economic potential and believe a united approach to creating the conditions needed to accelerate growth would be the best way of achieving this,' said Cllr Bob Cook, leader of Stockton Council.
'We already have a strong track record in forging effective partnerships across sectors. By harnessing these strengths in a more formal arrangement we could build a better infrastructure, workforce and transport links to help Tees Valley thrive in the global economy and attract more investment and jobs for local people.'
If the proposals are approved, the combined authority could be up and running towards the end of next year.
Sandy Anderson, chair of Tees Valley Unlimited, said: 'A combined authority would make the work of developing the economy of the Tees Valley even more effective. The combined strengths of the Tees Valley LEP and the new powers afforded by a combined authority would provide greater resources and a stronger voice for the region.
'The combined authority would be managed by the managing director of the LEP; but unlike the LEP, it would be a statutory body giving Government the certainty of structure and accountability necessary to devolve more significant amounts of money and levels of decision making.
'It is important that business is engaged from the very beginning of the process and its support is vital to the future success of a combined authority.' Business leaders have welcomed the move.
James Ramsbotham, chief executive of North East Chamber of Commerce, said: 'A combined authority arrangement builds on a strong history of local authorities in Tees Valley working together, which is what businesses want to see. This development would help bring more resources and flexibility into the area to deliver the economic growth of which we know Tees Valley is capable.
'It is crucial that the chancellor understands, as he prepares his blueprint for the future, that far from being a problem for the UK to solve, the north east is a huge asset that must be allowed to flourish. This combined authority proposal could contribute significantly to that process.'