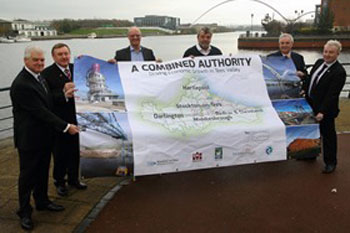 More than 1,900 individuals and organisations responded to consultation on the proposals and 65% backed the idea.
The Tees Valley's five local authorities will now agree a plan of action to submit to communities secretary Eric Pickles.
'A Combined Authority would provide an opportunity to build on the excellent working arrangements that already exist between the five Tees Valley councils and businesses,' said Cllr Bill Dixon, vice-chairman of TVU and leader of Darlington Borough Council.
Cllr Christopher Akers-Belcher, leader of Hartlepool Borough Council. 'It will enable the Tees Valley to have more influence on national policies and help attract much-needed funding to improve the area and create jobs.'
Middlesbrough mayor Ray Mallon admitted a combined authority would not be a 'silver bullet for all the challenges we face, but it has the potential to create greater devolution'.
He added: 'A strong single voice is essential if we are to advance the Tees area agenda on key strategic issues such as transport, employment and in the skills agenda which are crucial to economic growth.'
Sandy Anderson, chair of local enterprise partnership Tees Valley Unlimited (TVU), said: 'We welcome the successful completion of the consultation phase of the process to establish a combined authority. TVU are committed to a combined authority which would prioritise economic development.'