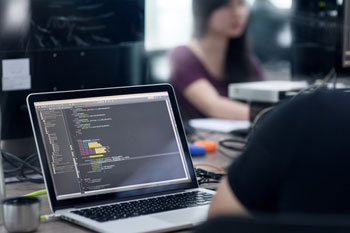 With restrictions being placed on who can qualify for greater devolution, just how can local authorities meet the demands for greater efficiency and still deliver the services their communities expect?
An area where I believe local authorities are making good improvements is in digital transformation, which clearly has the potential to drive huge savings. The Institute of Government has suggested that between £1.3bn and £2bn could be saved with more efficient digital government, while the National Endowment for Science, Technology and the Arts (NESTA) has calculated that effective digital strategies could save the average unitary council up to 13% of its total budget by 2025. If that were a proportion of the 2015 – 2016 total local government spend of £113bn that would equate to £14.7bn. This would help keep the Treasury at bay, who is still looking to cut 6.7% in funding through 2020.
Of course there has been criticism about the idea that digital transformation holds all the answers. While greater investment in technology will undoubtedly improve the way services are delivered, in its State of the State Report, Deloitte has suggested that there could be as few as 4,000 administrative roles for public sector workers by 2030 compared with 99,000 in 2001. That is a stark change that impacts real people. There needs to be discussion about how technology can provide new opportunities vs how it eliminates jobs.
The reality is that it continues to disrupt whether we like it or not, and given the pressure on resources, finance directors will be accused of failing in their duties if they ignore the potential £17bn savings in wages that technology could bring by 2030.
Earlier this year, Brunel University was highly critical of the role that ICT played in improving public services through digital transformation initiatives. The changes so far have been mostly 'cosmetic' whereas they should have been seized as an opportunity to deliver more radical change, starting with policy strategy all the way through to service delivery.
Other figures appear to back up this argument: John Jackson, the chief executive of London Grid for Learning, suggested that approximately 93-97% of a typical council's budget was spent outside of the IT department on externally sourced services, assets and people. So does this mean that digital transformation should not be seen as the driving force for local authorities in the tough years ahead?
Various research reports suggest digital transformation will remain a key priority for local authorities. You only have to look at decisions, such as Scotland's 28 councils joining together to collaborate on their digital strategy and appointing a chief digital officer, to know that digital is seen as a great motivator of change. However, we should not forget that the success of digital is not just dependent on clever mobile apps or sleek websites interacting with citizens.
There is very hard work to be done behind the scenes to ensure those 'customer-facing' applications are successful. With shared services and collaborative models being mooted as a way for local authorities to streamline costs and deliver more effective services, the behind-the-scenes integration between disparate IT systems becomes critical.
Local authorities need to take back the control, and IT is one area in particular where I believe they do not need to wait for guidance, policy or investment from central Government to make decisions. Getting a handle on vendor relationships is one area that could use an overhaul, for example.
Last year the database vendor Tmaxsoft, conducted a freedom of information enquiry on London local authorities. The company found that 92% of local authorities were using Oracle software, with 30% saying they had spent over £100,000 in the last two years on licensing fees, and 15% had spent over £500,000 on licenses. This is before you add the 20% annual maintenance fees. Thirty percent also admitted that their spending on Oracle software had risen by up to 20%. Now you do not need to be a mathematician to appreciate the potential savings to be achieved by integrating these Oracle licenses into a shared service.
There are many reasons why vendors such as Oracle and SAP have not been challenged by local authorities to reduce costs. First, the software works well, it has been developed over 30 years to its current mature state. Also, many public sector organisations have long-standing relationships with these vendors, which have given CIOs the reassurance of 'better the devil you know'.
Today though, necessity should be driving change in the relationship between authorities and their technology vendors. I would argue that in recent years, technology vendors have been allowed to reap significant revenue and profits from their public sector clients in the UK while delivering very little value in return.
Local authorities can quickly demonstrate how they can take back control by looking at their vendor relationships. CEOs and CIOs should be asking one simple question: is my current investment in enterprise software enabling my organisation to meet our fiscal and public service responsibilities? These are not just responsibilities to drive further efficiencies, but to also have the resources available to invest in digital transformation.
While devolution remains the buzzword in the local authority sector, taking back control can start today without awaiting further central Government decisions on funding allocations. There are some situations where authorities are dependent on central government, but there are others, such as their relationship with their existing technology providers, where they can have far greater control.
I believe taking back that control will be critical to fulfilling the mandates that local authorities have now and in the years ahead as they transition to more digital service delivery models.
Peter Dunn is director of UK Public Sector at Rimini Street