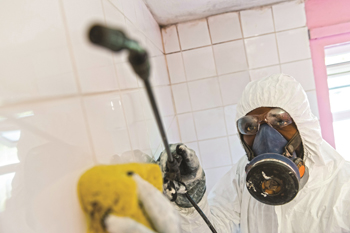 Condensation and mould can be a major issue for social housing landlords. And with the Homes (Fitness for Human Habitation) Act 2018 making it a legal requirement that rental properties are fit for human habitation, including the need for effective ventilation and freedom from damp, it is essential landlords stay on top of the problem.
In fact, a recent report from the Housing Ombudsman 'Spotlight on Damp and Mould. It's not lifestyle' calls for landlords to take a 'zero-tolerance' approach to damp and mould as well as considering proactive actions to identify homes that have or may be at risk of developing problems rather than waiting for residents to report issues.
According to the 2019-20 English Housing Survey, serious condensation and mould problems were present in at least one room in 133,000 (3%) social sector homes. The Housing Ombudsman's report recognises the challenges for landlords in tackling these issues – including overcrowding, poverty, the age and design of homes – but says landlords should avoid inferring blame on residents due to 'lifestyle'.
So, what do social housing providers need to do to prevent issues with condensation and mould and provide a habitable living space, keep residents healthy, and protect their housing stock? Dealing with the problem of condensation and mould in properties is a big task for a landlord to take on alone. There is a greater chance of success in tackling the problem if landlords work in partnership with mould and ventilation experts that offer a range of services backed up by technical knowledge and experience. In fact, the Housing Ombudsman's report highlights the importance of using a suitably qualified surveyor.
Surveys
The first step when trying to deal with mould issues is to undertake a comprehensive property survey to identify the location and cause of the mould. Reasons can include a leak, rising damp, low level of heating and insufficient ventilation.
Part of the survey will include checking the dew point, which is the temperature at which air cannot hold any more water. Any fall in temperature below this results in condensation forming. The dew point is calculated by measuring the humidity and temperature with a thermo hygrometer or other humidity sensor. By pointing a thermo hygrometer at a wall it's possible to identify cold spots and where thermal or mould paint should be used. By calculating the dew point, landlords can be advised of minimum temperatures that homes need to be heated to, to avoid condensation forming, taking a proactive approach. Once a mould survey is complete, the Housing Ombudsman recommends: 'Landlords should ensure that their responses to reports of damp and mould are timely and reflect the urgency of the issue.'
Mould treatment
If mould is present in a property, it's essential for landlords to quickly carry out a thorough removal treatment to eradicate it. It's important to use a COSHH certified mould removing solution to eliminate the live mould spores; using household products or bleach just spreads the spores around and masks the problem temporarily before the mould soon returns. The treatment should be followed up with anti-mould paint, which prevents live mould spores from settling on the walls, or insulating paint, which prevents the mould from returning but also increases the wall temperature and prevents condensation from forming.
Ventilation
Once mould is treated, effective ventilation should be installed to remove excess moisture. This will help ensure condensation and mould won't return. Solutions include Positive Input Ventilation (PIV) which is proven to reduce both condensation and mould. It removes stale humid air and draws in fresh air which is filtered and warmed before being added into the home. Some PIV units also offer high grade F7 filters to filter out harmful PM2.5 particles that cause respiratory and cardiovascular diseases.
Record keeping
Another key recommendation in the Housing Ombudsman's report is for landlords to ensure they have robust record keeping. Many landlords may not realise that it is possible to gain valuable data from a property's ventilation. Fans with datalogging enable detailed record keeping. These fans record details of the home environment and can also monitor all 'on/off' occurrences, giving a clear indication of whether the fan has been running as intended. This environmental data can be downloaded and can include information on relative humidity, vapour pressure, dew point, room temperatures, along with power interruptions and isolations. This data can be used as evidence to support a legal disrepair case or to help with the difficult complaint case.
This detailed record keeping can also be helpful for landlords in implementing a date driven, risk-based approach with respect to damp and mould which is a proactive approach the Housing Ombudsman's report advocate. By monitoring this data, it is possible to identify problems in similar properties before they are reported and so 'prioritise interventions before a complaint or disrepair case is made'.
Condensation and mould have proven to be an enduring problem for social housing landlords and their residents. It's crucial that landlords meet the requirement of the Homes Act and protect their residents from the unhealthy effects of condensation and mould. By working with a specialist condensation and mould company, who offer a full service from survey and treatment through to solutions and support, landlords can be confident that they can keep condensation and mould in check for good.
Tom Wodcke is product manager at condensation and mould control specialists Airtech Solutions