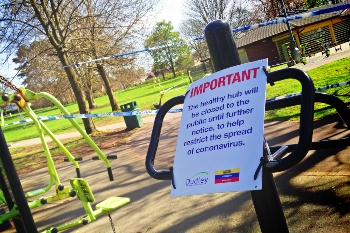 Free toolkit for councils launched: when Covid-19 restrictions are over, let's build on community cohesion to have conversations about our places and tactical urbanism.
You only truly miss something when it's gone. The places we zipped by before this health crisis placed us in lockdown, we now long after.
I am not sure about you, but when I take advantage of my daily exercise window, I am starting to notice things I never did before: that random tree, or somebody's garden; the latter mostly out of pure jealousy, as I live in a flat.
Covid-19 has taken our spaces away, but the good news is that it is temporary. No matter how hard it feels at the moment, the uncertainty of how long this will last, we will get them back, and when we do, let's make the most of them.
Even before the coronavirus crisis money was tight, and it's safe to say that after this money will be tighter still. Some tough funding decisions will have to be made. From grant funding to save local businesses to injecting funds into health schemes to combat an impending mental health crisis, there will be a lot to consider.
In the plethora of hard rulings to be made, placemaking activities will probably fall down the list of priorities. And, as much as I can understand that, I genuinely feel it could be a mistake as there are real opportunities to ignite passion for our neighbourhoods like we have never seen before.
Why?
When you walk the streets (only for your permitted exercise, of course) you can see the community coming together. From positive messages for frontline workers in the windows of people's homes, to the weekly claps for the NHS, and not to mention over 750,000 people in England alone signing up to volunteer to help the health service before the signup process was forced to close so they could manage the mass of applications, there is a sense of community.
I think it's fair to suggest, if you were one of those who had a passing indifference to your neighbours, even those who live at the other end of your street, I bet you feel differently now.
I mean, people are absolutely hankering to get outside, and when they do, if they don't appreciate every nook and cranny of their neighbourhood like never before, it's going to be a different story as soon as this is over.
For those of us who are not frontline workers, it is easy to feel pretty useless, and that's okay, as millions of people are feeling the same. We're truly all in this together. So, after cleaning my fridge for what felt like the millionth time, I had an idea.
What if there was something we could design that could relieve some of the financial pressure from local council workers who still want to inspire citizens to take part in making where they live a better place? So we did just that. We created a free placemaking toolkit that looks at how tactical urbanism can be used to improve where we live.
So, what is tactical urbanism?
Tactical urbanism is activism-minded placemaking activities, which can be implemented for little to no cost. You only need the will of the people who live in our towns to share ideas, and the support of the local council - that's you.
It is almost always a grassroots initiative, essentially taking a place that could seem a bit run down or underused, and doing something exciting to utilise or renovate the space. For example, transforming an unused pathway into a small garden or cycle lane; upscaling old pallets to install seating areas in public spaces; creating pop-up eatery places or curating street food events; or renovating an abandoned green space into a public park (that one's called 'guerilla gardening') - these are all usually temporary, at first, but there are plenty opportunities for them to become permanent.
This Community Focused Tactical Urbanism toolkit gives local councils the opportunity to upskill their residents in tactical urbanism by identifying places they could beautify, but it also offers a framework for engaging with the community on how they feel about their place and encourage them to enact activities you are comfortable with. Plus, if any of these activities come to fruition, are successful and look great, you as a council could then make them even better.
Maybe even boast that you, as a region, really have a person-focused policy when it comes to listening to what residents want from the places they live in. This toolkit can provide the perfect way to evidence community engagement.
The Community Focused Tactical Urbanism toolkit is a free, downloadable workshop that truly anybody can facilitate and here's why: When you click the download link, you'll get a guidebook, a presentation for your big screen, a workshop manuscript (meaning that the facilitator can just follow a script), material printouts for activities and a host of marketing materials (including graphics to share on Twitter), supporting materials for Eventbrite, and even an editable poster you can add your own information and branding to and then share around you area.
All you need to do is book a venue, set a date and start to promote. We've really made it as easy as possible for you.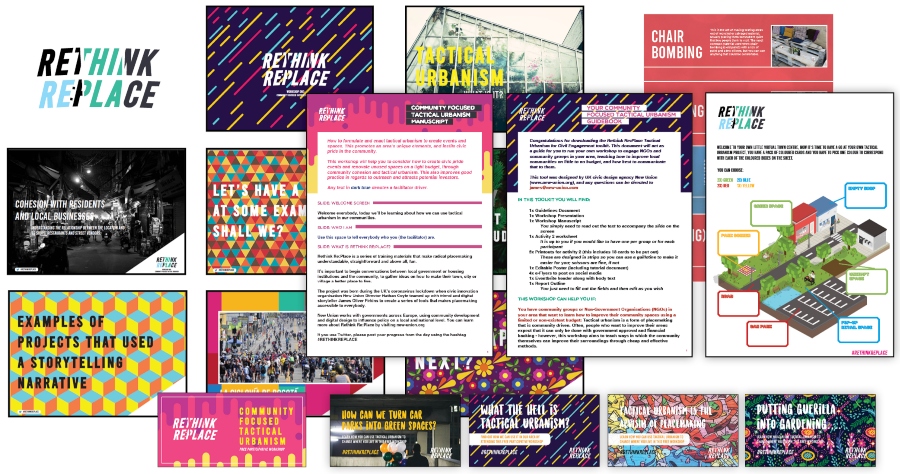 An example of what is in the Rethink Re:Place toolkit
Sometimes, we'd all agree, it's hard to give something away for free. A lot of my work is around helping local governments to bring communities to the table, and make better third-sector open data policy. I ended up creating another free toolkit around the issue, and it was very difficult to get local authorities to even look at it, simply down to the fact they didn't trust the fact it wasn't going to cost them anything! Eventually, the idea was picked up by a large institution in Europe and rolled to every city government in Germany, so the choice to make it free was probably for the best, in the end.
I want to make this point bluntly because when we come out the other end of the Covid-19 crisis we need to change our social culture of working, which means taking the help offered, as we are all going to need it. I know a lot of local government workers who would admit they can have an "institutionalised" outlook when it comes to outside parties.
So, to reiterate, it's free and there is absolutely no catch - it is open source and licenced under the Creative Commons framework. Please use it to do some good in your own communities and capitalise on the reignited community compassion that has been unleashed and will grow exponentially as soon as the restrictions are lifted.
You can download the toolkit by clicking here.
Nathan Coyle is the managing director of New Union, a UK based not-for-profit civic innovation organisation