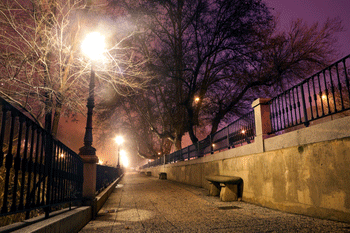 Councils can turn off street lights without triggering an increase in car crashes or local crime, analysis suggests.
While motorists have voiced concern about the safety implications of local authorities dimming or switching off street lighting in a bid to save funds, research published in the Journal of Epidemiology and Community Health has indicated there is no link between darkened streets and increased night time road casualties or crime.
Researchers from the London School of Hygiene and Tropical Medicine in partnership with University College London gathered data on 62 local authorities in England and Wales over the past 14 years.
Lead investigator, Dr Phil Edwards, said town halls would still be able to reduce street lighting levels 'without and increase in car crashes and crime' as long as risks were 'carefully assessed'.
However AA president Edmund King said he was 'extremely surprised' by the results.
He highlighted that coroners had concluded the switching off of street lights had been a contributory factor in six road deaths between 2009 and 2013.
Department for Transport statistics indicate that while there has been an 18.6% fall in accidents in the dark on built up roads with street lights over the past five years, the reduction falls to 12% where street lights are off or not present.
King said: 'Drivers cannot afford the risk of not lighting the road ahead if it might result in killing or injuring pedestrians, cyclists and other vulnerable people.
'Although part-night lighting on 30mph roads has yet to show a problem in road casualties, it is the 40mph and faster roads that are the problem. Crash experts say there just isn't enough time to react, even when driving at the speed limit with the headlights on.'