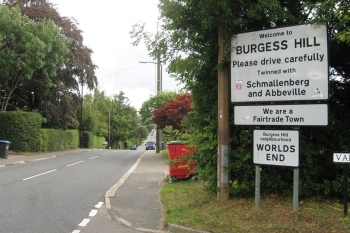 A planning committee in Sussex has given the green light to a construction project that will see thousands of new homes delivered in the area.
Mid Sussex District Council's planning committee has given the go ahead to Homes England's Northern Arc scheme, which will see 3,000 new homes built at Burgess Hill in Mid Sussex.
The new homes, 30% of which are classified as 'affordable', will be built alongside new community facilities including three neighbourhood centres, three new schools and employment opportunities.
Construction is expected to begin in 2020 following further community consultation.
'This flagship scheme will provide existing and new residents with a mix of affordable and market priced homes to buy and rent alongside schools, new community, leisure, health facilities and employment opportunities in Burgess Hill,' said Ken Glendinning, head of strategic land at Homes England.
'We developed our plans following discussions with the local community as well as working closely with Mid Sussex District Council and West Sussex County Council to ensure that the necessary infrastructure will be delivered at the right time.
'Over the next three years, we plan to invest around £41m in vital new infrastructure at the Northern Arc. This will unlock these needed new homes in Mid Sussex, making homes happen faster and ensuring they are a real benefit to the local community. The new infrastructure will relieve traffic pressure and provide better links in this part of Mid Sussex.'?
Photo: © Alex McGregor