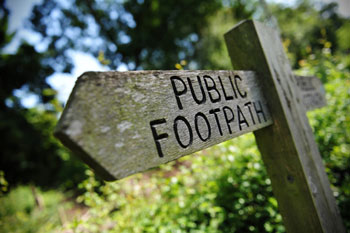 More than a third of paths need improving, with a tenth difficult or impossible to use, the biggest ever footpath survey has revealed.
The research, by walking charity the Ramblers, found that while 56% of paths are well-kept and signposted, 35% need improvement to make them more accessible and user-friendly.
Problems reported included unsafe stiles or gates, potholed paths, heavy undergrowth or overhanging vegetation. The most common reported problem was missing or misleading signs.
The charity is calling on walkers to use its free Pathwatch app to report any problems they discover.
Nicky Philpott, the Ramblers' director of advocacy and engagement, said: 'It shouldn't just be up to local authorities to ensure the upkeep of our paths. We all have a part to play in looking after them, which is why we want everyone to take responsibility for their paths. It can be as simple as regularly using your local paths. Get out and walk them.
'If you see a problem, use the Pathwatch app to report it and we'll pass the information on to the local authority. Problems reported early that would be quick and cheap to fix can become difficult and costly over time.'