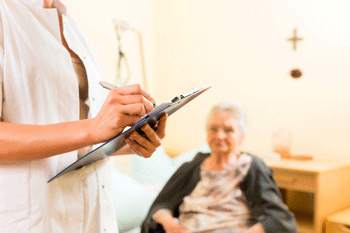 There has been a 'sharp drop' in satisfaction with social care and the NHS in recent years due to a lack of funding and Government reforms, new research reveals.
A new report from the Nuffield Trust and The King's Fund think tanks has revealed satisfaction with social care services was 23% in 2017 and dissatisfaction increased by 6 percentage points to 41%.
The analysis, which is based on the National Centre for Social Research's (NatCen) British Social Attitudes (BSA) survey, also found the proportion of people who said they were 'very' or 'quite' satisfied with the NHS fell from 63% in 2016 to 57% the following year.
Those who said they were 'very' or 'quite' dissatisfied grew from 22% in 2016 to 29% in 2017.
The quality of care was cited as one of the main reasons for satisfaction with the NHS, as was the fact it was free at the point of use. The attitudes and behaviour of NHS staff and the range of services and treatments available were also highlighted as positives.
The main reasons for dissatisfaction were staff shortages, long waiting times, lack of funding and Government reforms.
Overall satisfaction with the NHS was higher among people aged 65 years or older (63%) than among adults under 65 (55%). Between 2016 and 2017, satisfaction fell among all age groups.
Responding to the findings, Cllr Linda Thomas, vice chair of the Local Government Association's (LGA) community wellbeing board, said the increased dissatisfaction with social care services was the result of 'historic underfunding'.
'Councils, providers and hardworking care workers are doing all they can against a backdrop of reduced budgets to provide high quality and dignified care to those who need it, at a time and location that suits them,' said Cllr Thomas.
'However, the consequences of historic underfunding of adult social care get worse with every passing year.
'It is therefore no surprise that the public is becoming more aware of the impacts, including threats to the quality and availability of care, with an increasing number of providers either pulling out of contracts or going out of business.
'If satisfaction levels in social care services are to improve, then a better-funded social care system is needed to allow councils to invest more money in preventing the causes of sector pressures, while also helping to improve the experiences of social care for those who use services.'
'Government needs to provide genuinely new money to address immediate pressures as part of the £2.3 billion funding gap facing social care by 2020,' she added.