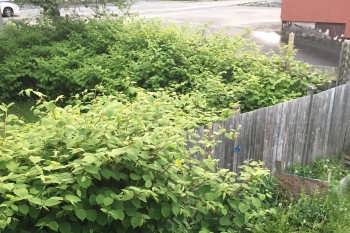 The number of confirmed Japanese Knotweed cases in the UK have increased by 28% over the last five years, a new study has revealed.
Using figures from 49 local authorities, Horticulture.co.uk found there are now 29,536 confirmed cases every year of the invasive plant species.
South Yorkshire, Hampshire & West Sussex were the three counties with the fastest growing number of cases, the data reveals.
According to the data, there are a further 19,702 unconfirmed cases of Japanese knotweed, with thousands more in the UK likely to remain unreported.
Thomas O'Rourke, editor of Horticulture.co.uk, said: 'The findings show a dramatic increase in the number of live Japanese Knotweed cases, despite the reduction in monitoring caused by the pandemic. This is worrying news for both native wildlife and property owners in the UK – where a live knotweed invasion can cause structural damage and the 'crowding-out' of native species.
'Given this impact on the habitat of native UK species, it's important for environmental organisations to understand and access the latest records on where they can be found in the UK. This helps with monitoring and management programmes to control its spread.'
Horticulture.co.uk has launched an interactive map to encourage people to report live cases to their local council.