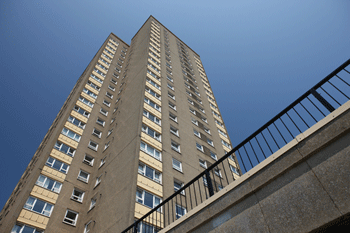 The Government's welfare reforms have caused social housing tenants to run up debts or reduce spending on food, according to a new study.
The research was conducted by the LSE to explore the impact the reforms have had on low-income communities over the past two years. It found that one in ten tenants have found work as a result of reforms, although the majority of these are part-time with uncertain hours.
Is Welfare Reform Working? also found that most social housing tenants face 'persistent' barriers to work such as ill health or disability, lack of suitable jobs, poor skills levels and high childcare costs.
A third of tenants are struggling financially as a result of the reforms, with 63% saying they are cutting spending on food, getting into debt to pay bills or borrowing from family and friends.
Anne Power, Professor of Social Policy at LSE, said: 'Four hundred interviews with two hundred tenants over two years paints a powerful and painful picture of low income tenants struggling to cope with falling incomes. Social landlords are offering more support but can't close the gap.'
Other key findings were:
• While the majority of tenants find their links with the Jobcentre unhelpful, they are generally positive about free training opportunities, particularly those provided through Learn Direct.
• Sanctions and reassessments of tenants' benefits have the potential to destabilise households and cause debt and arrears that increase household vulnerability.
• The majority of tenants commonly go for advice to Citizens Advice and other support agencies.
• Three quarters (74%) of economically inactive tenants care for disabled family members, volunteer in their communities or take care of young children.