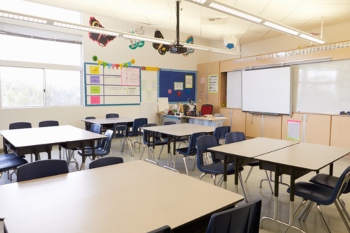 School closures have not had a 'significant effect' on preventing the spread of coronavirus, a new study has revealed.
The systematic review, led by the University College London (UCL), found school closures alone are likely to reduce the number of deaths from Covid-19 by 2-4% in the UK.
Professor Russell Viner, from the UCL Great Ormond Street Institute of Child Health, said: 'We know from previous studies that school closures are likely to have the greatest effect if the virus has low transmissibility and attack rates are higher in children. This is the opposite of Covid-19.
'Data on the benefit of school closures in the Covid-19 outbreak is limited but what we know shows that their impact is likely to be only small compared to other infection control measures such as case isolation and is only effective when other social isolating measures are adhered to.
The study said other social distancing measures in schools such as reducing the school week or staggering school start times should be considered instead.