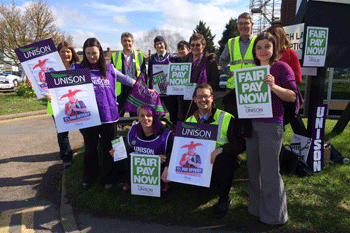 Council and school support staff will strike again later this year as part of continuing demonstrations over pay.
Around a million public service workers are thought to have taken part in national protests on 10 July against the 1% increase in pay offered by local government employers.
Unison has now revealed a further walk out will take place in England, Wales and Northern Ireland on Tuesday 30 September.
Following demonstrations earlier this month, the union affirmed that its 'overwhelming priority' was engaging in negotiations with employers.
However, Unison's head of local government Heather Wakefield said previous action had 'sent a strong message to the employers' that council staff were 'fed up and angry with being exploited'.
'It is a disgrace that so many workers and their families are forced to live on poverty pay,' she added.
'There was widespread public support for our members, the majority of whom are low paid and part-time women workers whose good will has been taken for granted for too long.'
The trade union called on the Local Government Association (LGA) to engage in further talks ahead of the protest date. Unison argues that current offers would see 90% of council and school support staff receiving a 1% increase following successive years of pay freezes and below inflation rises in 2013 and 2014.
'No local government or school support worker should be paid below the Living Wage,' Wakefield said.
'It's time for the employers to come back to the negotiating table and work with us to secure a decent offer for our members and end this damaging dispute.'
The LGA has previously said the pay rise offer was ''at the absolute limit of what local authorities can afford'.
The latest announcement follows a recent survey of council staff undertaken by LocalGov, which found 57% of respondents did not want to strike again even if the pay offer is not increased.
Responding to the announcement, a Local Government Association spokesman said: 'Most local government staff did not vote to strike and the vast majority did not take part in strike action earlier this month. Both GMB and Unite have confirmed that they will not take part in this further strike. We urge Unison to reconsider.
'This year's offer would increase the pay of most of our employees by one per cent while those on the lowest salaries would receive increases of between 1.25 per cent and 4.66 per cent. This is at the limit of what councils tackling the biggest cuts in living memory can afford.
'The sooner Unison, Unite and GMB accept this pay offer, the sooner this money can reach our employees who have been waiting for it since April.'