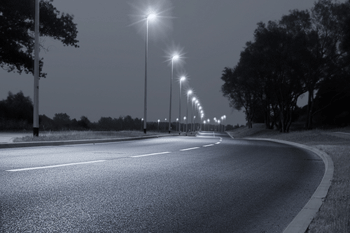 Switched off street lights in Warwickshire contributed to the death of a student, a coroner has concluded.
Archie Wellbelove died after being hit by a taxi along a stretch of the A452 near Leamington, five days after Warwickshire CC switched off a number of the region's street lights in a bid to save funds.
In a narrative conclusion recorded following an inquest into the death, coroner Dr David Brittain said 'the lack of street lighting' was among 'multiple factors' which contributed to the collision.
Brittain also forced Warwickshire into an early review of its lighting policy along the stretch of the A452.
'I do not believe the specifics of this case have been reviewed by those who have the power to do so sufficiently and I feel a delay until July is unacceptable,' Brittain said. 'I think a review will be helpful and I will be issuing a report to prevent future deaths.'
The inquest at Warwickshire Justice Centre heard Wellbelove was three and a half times over the drink drive limit when walking towards Warwick University in the early hours of December 7 2012. Police reported that he was facing away from traffic while walking in the road.
The taxi driver said he was unable to see Wellbelove and was used to the road being lit, describing the route as 'very dark'.
A Warwickshire CC spokesperson said: 'At the time of the incident, the lights were switched off on the road. It is a stretch of road where there is limited traffic during the hours of the switch off, and where there have historically been very few accidents.
'We have closely examined all aspects of community safety both before and during the move to part-night lighting. Since the move, there has been no increase in the rates of road traffic accidents on roads where the lights have been switched off.
'We will continue to work closely with all agencies involved and monitor all the data on accidents on roads, as well as all aspects of community safety, where part-night lighting is in operation.'