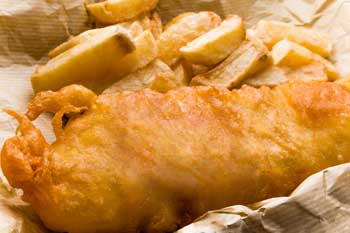 A borough has called on local fish and chip shops to sell steamed fish as part of efforts to promote healthy eating.
Rochdale BC said six local takeaway sites were now offering customers the steamed dish, which is lower in calories than its battered alternative.
'Chippies' are also being encouraged to offer smaller portion sizes and use healthier frying techniques such as making chips chunkier or straight cut.
Rochdale's healthier choices manager Clare McNicol said: 'It's great to see some takeaways in the borough now doing steamed fish. We know customers are increasingly looking for a healthier diet although they enjoy treats like fish and chips so it's a step in the right direction.
'Research shows local people do want takeaways to offer healthier choices, which is why we are pleased these takeaways are introducing steamed fish. It gives all the great taste of the fish, without the extra calories of the batter.'
Anil Ozdemir, manager of one of the restaurants to start selling steamed fish - Tony's Chippy – said the steamed fish was 'delicious and nutritious'.