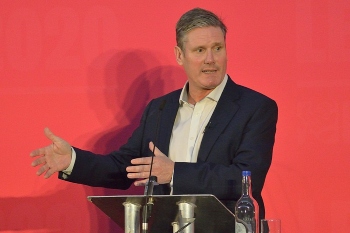 The coronavirus crisis and the government's inaction has caused a 'perfect storm' for councils, Keir Starmer will warn later today.
Speaking at the Local Government Association (LGA) annual conference, Mr Starmer will say that councils face a £10bn funding black hole unless the Government takes action.
He will also argue that a Labour government would build a new relationship with local government.
The Labour leader will say: 'We would give local government a much bigger say over investment and services, not through plans devised by someone in an office on Whitehall, but ones created and rooted in communities, so that they truly serve the people.
'We would put local government, its power and its innovation, straight at the heart of Westminster by replacing the House of Lords with a democratic second chamber representing the nations and regions of the UK.'