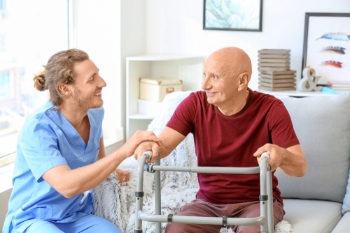 NHS leaders have called on the Government to implement a national care worker minimum wage of £10.50 an hour to prevent staff from leaving the sector and causing long-term damage to the health and care system.
The NHS Confederation has written to Prime Minister Boris Johnson warning that without an increase above the hourly wage seen across many other industries the social care sector in England would continue to haemorrhage staff.
A decade ago, the average hourly wage for a care worker was 13p more than those working in the sales and retail sector, by last year that had plummeted and social care workers were paid around 21p less than those working in supermarkets.
In their letter to the PM, the NHS Confederation warned that the already over-stretched care sector currently does not have 'the financial headroom…to respond to the labour market pressures they are facing.'
They said this would have a knock-on effect on the NHS by exacerbating waiting times in the health service and driving demand for NHS services ever higher.
Matthew Taylor, chief executive of the NHS Confederation, said: 'Healthcare leaders are sounding the alarm and sending a clear message to Government that unless social care workers are paid a national care worker minimum wage, there is at real risk of irreparable damage to the sector.
'We are seeing the impact of this heightened pressure across the NHS already, with far too many patients having to stay in hospital longer than they need to due to inadequate social care provision locally.
'We urgently need the Government to take decisive action to fully fund this minimum wage increase which should be distributed through local authorities, to ensure funding reaches the front line, does not impact self-funders' cost of care, and alleviates these severe staffing challenges.
'Without this life jacket, both the NHS and social care could face an endless winter of people being failed by the very systems that should be there to support them at their most vulnerable.'