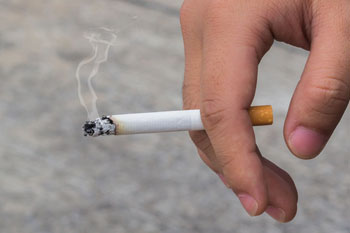 Local authorities in England face a bill of £760m a year to help people with smoking-related illnesses stay in their own homes, campaigners say.
Research published today by Action on Smoking and Health (ASH) revealed the dramatic strain smoking places on the social care system and council finances.
Their findings - included in an All-Party Parliamentary Group report on smoking and health – showed councils paid £760m a year on domiciliary care for people suffering from illnesses caused by smoking. This is up from £600m in 2012.
The chairman of the Local Government Association's (LGA) community wellbeing board, Cllr Izzi Seccombe, warned Whitehall's cuts to councils' public health grants threatened their ability to tackle smoking.
'The cost on social care of smoking is often overlooked, and only drives home the need to ensure that social care services are properly funded,' she said.
'The cuts by Government to councils' public health grants of nearly 10% – approximately £530m over five years – also threaten to undermine the good work councils are doing around smoking cessation.'
Bob Blackman, chair of the All Party Parliamentary Group on Smoking and Health said smoking was contributing to the social care crisis.
'Evidence presented to the APPG on Smoking and Health shows that smoking is contributing to the current social care crisis. The situation will worsen if funding to local stop smoking services continues to be cut,' he said.
'Smoking is the leading cause of health inequalities in the UK so this puts at serious risk progress towards the Prime Minister's ambition to reduce the burning injustice caused by inequality.'
Margaret Willcox, president elect of the Association of Directors of Adult Social Care (ADASS), also noted in response to ASH's findings: 'Preventing people from needing care in the first place is vital and reducing smoking can make an important contribution both to reducing the costs of care to councils and improving the quality of life for many who may otherwise need years of care.'