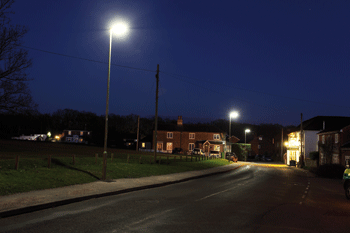 In the UK there are around 7.2 million street lights in operation, and with increasing energy and maintenance costs, as well as rising pressures to reduce carbon emissions, it is no surprise that councils are moving their street lighting policy away from the expensive dusk 'til dawn lighting regimes of the past.
Although many councils have reported significant benefits and savings through new lighting regimes, such as part-night lighting which normally refers to lights off between midnight and 5am, there is a balance to be reached on the savings that can be achieved and safety for road users and residents.
Commentators like the AA have stated that 'roads that are safe when lit can become unsafe with lights switched off'.
Our work with local authorities under a number of Private Finance Initiatives (PFIs) has found the solution to street lighting management to be a combination of effective use of Central Management Systems (CMS) and other innovative technology to reduce the need to switch lighting off during the hours of darkness.
CMS such as the Mayflower system enable local authorities to have a far more flexible approach to lighting policies.
They give them the ability, at the touch of a button, to monitor and adapt lighting levels in response to, and as a consequence of, increasing financial, safety, legal and environmental requirements and pressures.
This has been shown by our work with Hampshire County Council where we have installed a street lighting management system to over 100,000 lights and signs to date. It has enabled a large proportion of their street lights to switch on at 75% of full power with a further reduction to 50% at midnight. At 5am the light output is increased back to 75% output power.
This type of 'dimming' regime has brought significant carbon and cost savings to Hampshire. It's already reduced CO2 emissions by 4,000 tonnes – the equivalent to the CO2 emitted from 1,600 cars per year. It is also reduced the need for the 'lights out' approach and associated safety concerns.
With the CMS system, faults are also automatically registered, providing detailed information on the location of required repairs and replacements.
It's important to highlight that with the effective use of CMS and efficient lamps, lighting levels can be ramped up as well as down when required.
This is particularly important in light of concerns regarding safety. Some lights are programmed to shine brighter in certain areas to encourage night-time use, reduce crime and ensure people feel safe. They can also be better directed to reduce light pollution.
It's fair to say that using 'smarter' lighting schemes, through the use of CMS alongside modern lighting design and technology, can help strike the right balance in achieving commercial and environmental benefits and meeting the social, safety and security needs of local communities and road users.
Patrick Mitchell is head of Mayflower Complete Lighting Control at energy company, SSE.