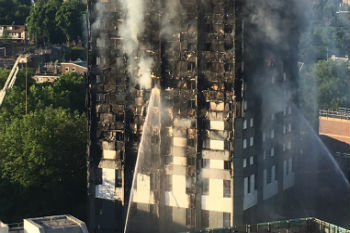 Slough Borough Council is to take control of a privately owned residential block due to concerns about fire safety in the wake of the Grenfell tragedy.
Councillors have agreed to acquire the business Ground Rents Estates 5 Limited which controls the freehold of Nova House, a six-storey former office block that was converted into 68 residential apartments in 2015.
Council leader Sohail Munawar said the authority was 'concerned' about fire safety in the building after the Grenfell Tower fire which left 66 people dead and 158 families homeless (pictured).
In England, according to the latest data from the Department for Communities and Local Government (DCLG), 266 buildings taller than 18 metres (59ft) failed fire safety tests after the blaze. 165 of these were social housing and 16 were public buildings.
Slough council emphasises that, in the case of Nova House, building control regulation was undertaken by a privately approved inspector and not local authority building control.
'Unfortunately it has now got to the stage where we feel, to protect the safety of the residents now and in the longer-term, we have to intervene directly and take over responsibility for Nova House,' said Cllr Munawar.
'We know there is a great deal of work that needs to be done to Nova House to bring it up to the correct safety standards and we do not believe the current freeholder has the capacity to do what is needed for the residents.
'As Slough residents, our duty is to protect them and ensure their safety and this is what has driven this decision.'
Cllr Mohammed Nazir, cabinet member for housing, said: 'We have been in regular contact with the residents of Nova House and have already written to them today to explain our intentions.
'In the coming week, we will be undertaking site visits and surveys in preparation for taking over the freehold, so we can move swiftly when the transfer has been completed.
'Our aim is to improve the situation at Nova House for the residents and their safety remains at the forefront of our minds.'
Who is behind the new Grenfell Taskforce, and what has it been set up to achieve? Sam Clayden reports here.