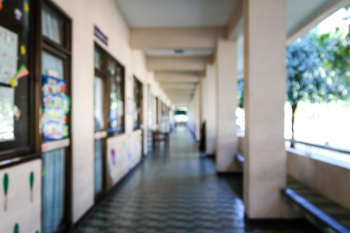 Six local authorities were duped into paying thousands of pounds to educate vulnerable children in an unsafe illegal school.
An Ofsted investigation found the local authorities were paying £1,200 a week to have children with highly complex physical and mental health needs sent to Freiston Hall in Lincolnshire.
However, the investigation revealed it was an unregistered school that was unlikely to meet Government standards. It had failed to carry out necessary staff suitability checks, to give first aid training to staff, and to supervise pupils adequately.
Despite a warning from Ofsted, it continued to operate illegally.
Amanda Spielman, Ofsted's chief inspector, said: 'The people running Freiston Hall were receiving large amounts of public money from local authorities, which were paying for exceptionally vulnerable children to be educated in an unregistered, unsafe school.'
'Registration is so important. Schools operating beneath the radar are not subject to regular inspection, so we cannot be assured that they are safe or providing good quality education. We want to send a clear message to those who continue to run unregistered schools, despite being warned not to. You will face justice.
'This case should also serve as a warning to local authorities. Decisions about placements must be made with due diligence. All local authorities should be carrying out the necessary checks to make certain that schools are registered with the Department for Education.'
Three people pleaded guilty to conducting an unregistered independent school and have received a conditional discharge and ordered to pay costs.