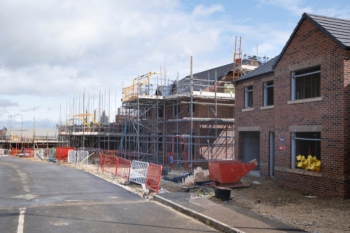 A lack of land is the main barrier preventing more homes from being built, small builders have warned in a new survey.
The annual research by the Federation of Master Builders (FMB) shows 63% of small builders say a lack of available and viable land is limiting their ability to build homes.
More than six in ten (62%) also said they are struggling with material shortages.
The 2021 House Builders' Survey of small and medium-sized house builders in England also revealed 61% feel held back by the planning system.
Brian Berry, chief executive of the FMB, said: 'Builders can't build if they don't have the land, and the FMB House Builders' Survey 2021 sends a clear message. With 71% of small builders reporting the number of small site opportunities is decreasing, and only 19% feeling a high level of certainty over the outcome of planning applications, these constraints are proving stubborn to shift.
'It is not all gloom, however. Improvements in access to finance are welcome, and recent Government commitments to expand access to the self and custom build market will give small builders a boost.'
The FMB is calling for nationwide compliance with planning guidance to ensure 10% of housing need should be on sites no larger than one hectare, and greater resource to local planning departments to improve engagement with SMEs.